XS665 Load Bank is housed in NEMA 3R enclosure.
Press Release Summary: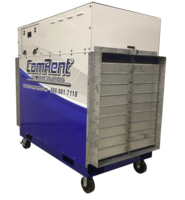 Designed for data center commissioning, XS665 Load Bank runs on 360VAC-504VAC source voltage. Featuring three-position adjustable exhaust louver for aiming heat to critical ducts, unit comes with resistance technology which provides 665KW at 480VAC and 500KW at 415VAC housed in 36 in. wide chassis.
---
Original Press Release:
ComRent International Releases New XS665 Load Bank Solution with Remote Technology
Company aims to improve data center commissioning and testing through innovation
ComRent International, a global leader in load bank solutions for testing and commissioning mission-critical infrastructure, today announced the launch of the XS665 with CR Remote Technology©, a powerful load bank designed for data center commissioning that offers single operator capability and continuous load at various voltages.
ComRent's advanced remote technology allows a commissioning agent, contractor or data center owner/operator to control and monitor up to 50 load banks from one single Microsoft Surface remote interface, delivering additional time and labor savings. The customizable controls provide the ability to simulate various data center downtime scenarios, providing the most accurate response of backup systems during a power outage.
The XS665 with CR Remote Technology© is the first solution to be released from ComRent's innovation road map. "Innovation is at the heart of everything we do," said Doug May, ComRent President and CEO. "We are reimagining the data center commissioning process and developing remote technologies to deliver time saving solutions with our world-class customer service. The XS665 with CR Remote Technology© delivers capabilities that are not available with any other remote technology available today, and we are confident our customers and partners will benefit from time and costs savings."
The XS665 can operate in a broad voltage range and maintain its internal power for its fans and control circuits. Run with source voltage from 360VAC-504VAC without the need for external control power, saving additional costs on additional cable and generators.
Additional XS665 with CR Remote Technology© features and benefits include:
Reduce risk of heat damage with a three-position adjustable exhaust louver, aiming the heat to critical ducts to ensure your mechanical systems accurately respond as specified.
Available in a Nema 3R enclosure, the XS665's weather-resistant design is ideal for temporary outdoor use.
Save shipping costs with an optimized, efficient resistor technology architecture that providing 665KW at 480VAC and 500KW at 415VAC, packed into a 36-inch-wide chassis.
About ComRent International
ComRent International offers technology and energy customers the most comprehensive load bank and service solution to interconnect systems faster, stay on time and budget, and reduce risk. Through ComRent's global delivering locations, 3,210-unit fleet and over 90 miles of cable, customers receive load banks faster and can confidently rely on ComRent's exceptional service and industry knowledge to do testing right the first time. Fortune 50 data centers, electrical utilities, solar and wind developers, and oil and gas companies rely on ComRent to fulfill their testing and commissioning requirements. Learn more at www.ComRent.com.
CONTACT:
Marcelo Gomez,
Vice President of Marketing,
Web Site: http://www.comrent.com
More from Communication Systems & Equipment