XRF Analyzer combines Si-PIN detector, 40 kV X-ray tube.
Press Release Summary: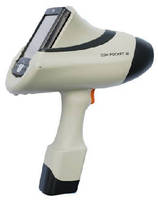 Designed for on-site analysis, EDX Pocket III Handheld X-Ray Fluorescence (XRF) Spectrophotometer features electronically refrigerated Si-PIN detectors that eliminate need for liquid nitrogen and allow standalone use in temperatures from -4 to +122°F. Product, available with software packages for different application fields, provides laboratory-quality analysis of high- and low-alloy steel, minerals, precious metals, RoHS elements, and soil as well as light elements.
---
Original Press Release:

Qualitest launches EDX Pocket III; an Advanced Hand-Held XRF Analyzer with Si-PIN Detector



The new Pocket III X-ray fluorescence (XRF) analyzer takes hand-held analytical performance to a new level. Pocket III combines an advanced Si-PIN detector with a powerful 40kV X-ray tube. The Si-PIN detectors are electronically refrigerated eliminating the need for liquid nitrogen and allows the instrument to be used at normal room temperatures without additional accessories or procedures. This cutting edge technology delivers fast and highly accurate measurements.

EDX Pocket III is the latest development in Handheld X-Ray Fluorescence Spectrophotometers. This unit has been specifically developed for on site analysis. Pocket III is available with advanced software packages for different application fields such as RoHS inspection, PMI Alloy inspection, scrap metal recycling, mineral and mining, precious metals evaluation, soil and environmental inspection. Pocket III is the smallest, fastest, most functional and accurate Si-PIN XRF spectrophotometers available on the market.

RoHS inspectors, scrap sorters, mine mappers and many others finally have the robust, moderately priced, mobile XRF Element testing tool they have been waiting for. Pocket III assures laboratory quality analysis of high and low alloy steel, minerals, precious metals, RoHS elements and soil. The powerful algorithms also allows for analysis of light elements such as Al and Mg through analysis of heavier elements. The powerful combination of the Si-PIN, 40 kV X-ray means that the Pocket III can accurately analyze and identify metal alloys in seconds. Restricted elements, lead in toys, contaminants in soil and small concentrations in ores can be accurately measured at impressive speed. Trace element results, down to ppm level, can be achieved in just seconds. To find out more about how EDX Pocket III can solve your portable spectroscopy needs please visit www.WorldofTest.com/edxpocket.htm or call us toll free at 1.877.884.TEST (8378).

Qualitest offers a wide range of X-ray florescence spectrophotometers. Our complete XRF portfolio is available at www.WorldofTest.com/xrf.htm and features advanced bench top and portable XRF spectrophotometers for all applications.

More from Material Handling & Storage