XPS Foam Board Die System minimizes product changeover time.
Press Release Summary: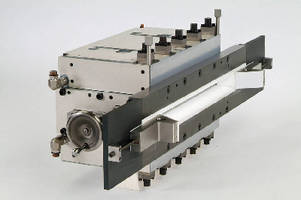 Designed for extruded polystyrene foam board, Die System enables on-the-fly product changeovers without stopping production line. System features adjustable full-manifold internal deckle inside flow channel of die and external edge restrictors that create final side dimensions on board as it emerges from forming box. Located between extruder and die, purge block makes it possible to carry out die maintenance while extruder is shut down but still full of polymer.
---
Original Press Release:

Die Innovation for Polystyrene Foam Board Yields Big Increase in Extruder Uptime, Aiding in Switch to 'Greener' Blowing Agent



CHIPPEWA FALLS, WI, - A new die system for extruded polystyrene (XPS) foam board dramatically reduces downtime for product changeovers, enabling manufacturers to offset much of the loss in productivity caused by switching to a non-ozone depleting blowing agent, it was announced today by Extrusion Dies Industries, LLC (EDI). In addition, EDI's technology incorporates innovations that enhance control over product dimensions, reduce scrap, and eliminate shutdowns for die maintenance.

XPS foam board is widely used as insulation and plays an important role in weatherizing homes and buildings to reduce consumption of fossil fuels and combat climate change. Because the hydrochlorofluorocarbon (HCFC) blowing agents used to produce the foam had raised concerns about ozone depletion, signatories to the Montreal Protocol mandated a switch to chlorine-free HFC blowing agents by January 1, 2010. The process changes needed to accommodate the new blowing agent reduce board production by 30%. The new EDI die system helps address this problem by eliminating hours of downtime incurred with conventional die systems whenever a change in product dimensions must be made.

"The EDI XPS foam board die technology makes it possible to accomplish a product changeover on the fly in only 15 minutes," said Dennis S. Paradise, vice president of sales and marketing. "By comparison, a change in width or thickness with a conventional die system requires shutting down the production line for at least eight hours, followed by a two-hour startup phase in which no saleable board is produced-only scrap. The added uptime generated by our new system is sufficient to offset the lion's share of the output loss imposed by the switch to HFCs."

XPS foam board producer DiversiFoam Products reports that by using the new EDI system at its Rockford, MN, plant, the company has virtually eliminated downtime for scheduled thickness setups, making it possible to produce 11% more saleable product. Operations manager Steve Slavik reports other benefits: "Our new die can operate at a much higher pressure than the old one, which is very important when using HFC blowing agents. In addition, it provides better temperature control, enhanced adjustability, and simpler maintenance."

Faster Product Changeovers and More Extruder Uptime

While EDI has successfully supplied dies to the XPS foam board industry for years, its new die system represents a totally different design.

One of the central innovations is a new type of forming box. When polystyrene passes through any XPS foam board die, it is charged with blowing agent. As it exits the die lips, it undergoes a thirty-fold increase in volume almost instantaneously. This expansion takes place just beyond the lips in the forming box, which has four-way adjustability. The forming box gives the board its initial shape in terms of thickness and width.

In most conventional die systems, the forming box and die lip constitute a single component. Changing the dimensions of the board requires stopping the production line, disassembling the lip/forming box, adjusting for new product dimensions, and reassembling the unit. The forming box in the new EDI system, on the other hand, is a separate, independently adjusted component that makes possible on-the-fly product changeovers without stopping the production line.

A second new component that reduces downtime is an adjustable full-manifold internal deckle inside the flow channel of the die. The deckle blades at either end of the manifold can be used to change flow-channel width by being moved farther into the channel or farther out.

Deckles are conventionally used for changing product width, but in the XPS process, where the material ultimately expands in all directions, deckles can be used to adjust thickness as well. By coordinating the settings of the deckle blades and the forming box, for example, it is possible to produce thicker board without changing width. This on-the-fly capability makes it possible to do so with little adjustment in comparison with conventional die systems.

Still another new component for ensuring dimensional consistency is external edge restrictors that create the final side dimensions of the board as it emerges from the forming box and passes between the two top and bottom sizing plates that are typically used in foam board production. Mounted on rails that extend from the front of the forming box, the edge restrictors ensure board edges that are more flush and flat. Here too, the omni-directional nature of foam expansion comes into play. While edge trim losses in conventional XPS board production typically are around 10%, restricting expansion at the edges results in more lineal feet of board.

A fourth innovative component in the EDI XPS board die system is a purge block located between the extruder and the die. This makes it possible to carry out die maintenance while the extruder is temporarily shut down but still full of polymer. The purge block acts as a valve, blocking flow from the extruder while purging material from the die.

DIVERSIFOAM PRODUCTS manufactures CertiFoam(TM) extruded polystyrene and RayLite(TM) expanded polystyrene insulations. The company is headquartered in Rockford, MN and also operates a facility in Mendota, IL. Tel: 1-763-477-5854. Fax: 1-763-477-5863. info@diversifoam.com. Visit www.diversifoam.com.

EXTRUSION DIES INDUSTRIES, LLC is a leading international supplier of flat dies for sheet, film, extrusion coating, fluid coating, and pelletizing. The company designs and manufactures dies, feedblocks, deckling systems, vacuum boxes, and related equipment. Its subsidiaries include EDI GmbH in Reichshof-Wehnrath, Germany, and EDI China in Shanghai. In the U.S.A., Germany, and China, EDI operates facilities dedicated to reworking its own dies and those built by other suppliers, and it has licensed a fourth rework facility in Japan. Headquartered in Chippewa Falls, Wisconsin, U.S.A., EDI is focused on supplying the global market. Visit www.extrusiondies.com and www.reworkdies.com. E-mail: sales@extrusiondies.com.

More from Software