Xpert Tool Changer integrates 6-axis robotic arm.
Press Release Summary: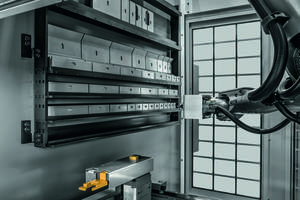 Ergonomically constructed to save space, and protect robotics system and tool magazine from dirt and ambient influences , Xpert Tool Changer enables automated changing of upper and lower tools. System houses bending tools within the machine and offers bending length of 3 meters, with press capacity ranging from 150 to 320 tons. Including intelligent sensors to detect new tools, Xpert offers touch screen user interface and features compressed air cleaning nozzle.
---
Original Press Release:
Bystronic Introduces Fast Bending Tool Changing - A Compact Automation Solution that Extends the Scope and Precision of the Xpert Press Brake
Bystronic is expanding the bending process with a newly developed level of automation. With the new integrated Tool Changer system, the high-end Xpert press brake can now swap tools automatically. This solution is of particular interest for users who want to save time and increase quality but who do not want to forego flexibility.
Sheet metal products are changing rapidly: a greater variety of shapes, increasing demands in terms of quality, smaller batch sizes, and shorter product life cycles. This has an effect on sheet metal processing. In the past, jobs with 1,000 or more parts were usual. Today, small quantities are in demand. For companies that cut and also bend, this change means extra work, with the impact felt most strongly during the set-up and dismantling of tools on their bending machines.
With the Xpert press brake and the integrated Tool Changer system, Bystronic is automating the process step that plays a crucial role in enabling users to bend parts quickly and with a consistently high level of quality. The Tool Changer sets up the Xpert with the upper and lower tools that are required for the job. During manual operation, this step costs the user up to 70 percent of the entire bending time.
Automation expands the rules of the game
Many users have reservations: Bending automation requires space, makes automated processing steps cumbersome, and thus less flexible. Hence automation only makes sense when processing large batch sizes of identical parts. With the Xpert Tool Changer, Bystronic provides an elegant solution to this typical drawback of conventional automation systems. The 6-axis robotic arm integrated in the Xpert press brake accesses the tool magazine, which is also integrated within the machine and houses a generous supply of bending tools. The entire automation system is located within the Xpert press brake. In addition to the advantageous ergonomics, this offers another benefit - the robotics system and the tool magazine are protected from dirt and ambient influences.
In combination with the Tool Changer system, the Xpert offers a bending length of 3 meters. The available press capacity ranges from 150 to 320 tons. As standard, the machine comes with an intelligent bending process control and fully automatic crowning. Both functions enable a wide variety of parts to be bent with maximum repetition accuracy.
Intelligent sensor technology recognizes new tools
With constantly changing bending parts, users frequently need to expand a press brake's range of bending tools. The Xpert Tool Changer system supports the user with intelligent sensors. The operator simply inserts new tools into the clamping. The Tool Changer scans the new tool and automatically integrates it into the magazine. When bending with several stations distributed across the bending length, the automatic tool changer positions all the defined tools with millimeter precision. This accuracy enables users to bend every part with a consistently high quality. Users will never again bend a part using the wrong tool, or with a tool that has been incorrectly inserted into the press brake's upper or lower beam.
Rotate and clean tools
In order the ensure sustained precise and gentle processing of parts that are to be bent, the Xpert Tool Changer system is equipped with a cleaning nozzle that cleans the whole length of bending table using compressed air. During the bending process, mill scale and cutting residues from the bending parts frequently drop onto the lower beam causing the operator to have to regularly clean their press brake. With the Xpert Tool Changer this is no longer necessary.
Ready for networked production
Bystronic has seamlessly integrated the operator interface for the Xpert Tool Changer into the ByVision Bending user interface. This enables users to perform all the operating steps on the press brake using one touch screen, regardless of whether they are controlling the tool change or the subsequent bending process. In addition to simple operation, this all-in-one solution also opens up new data evaluation possibilities and helps users to sustainably improve their processes.
More about the Xpert Tool Changer can be found on the BystronicUSA website at http://ht.ly/T6Qz309essJ
About Bystronic
Bystronic Inc. has offered customers single source service expertise for over 35 years. They provide innovative laser cutting, waterjet cutting and press brake systems, system software and comprehensive customer training and support. The company's North American headquarters is located in Elgin, IL. Offices are also located in Toronto, Canada and Monterrey, Mexico.
For more information on Bystronic Inc. visit www.bystronicusa.com, e-mail sales.us@bystronic.com or contact Frank Arteaga at 847-214-0300.
Bystronic Inc.
Airport Road
Elgin, IL 60123 USA
P: 847-214-0300 200
F: 847-214-0299
Related