XP500WD Louvers are rated to FEMA standards.
Press Release Summary: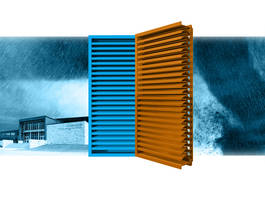 XP500WD FEMA Louvers uses blade that offers both FEMA protection and AMCA tested Class A wind driven rain protection. Product reduces installation time and is useful for builders and designers.
---
Original Press Release:
New, Industry-First XP500WD Louver from Ruskin® Combines Impact and Wind-Driven Rain Protection
Ruskin® introduces the XP500WD wind-driven rain FEMA louver, the first louver to provide both FEMA impact protection and Class A wind-driven rain protection.
Like other impact-resistant FEMA louvers, the XP500WD is tested to FEMA standard 361 for impact protection. What differentiates the XP500WD is its innovative and patent-pending design, which utilizes a new blade that not only provides FEMA protection, but also offers Class A wind-driven rain protection that is AMCA tested. The result is a FEMA louver that gives designers and builders one product that does the work of two.
The XP500WD will save builders and designers significant money and installation time (compared to installing a traditional FEMA louver and a secondary wind-driven rain louver).
The XP500WD will be available from Ruskin in March 2018. Visit www.ruskin.com for more information on Ruskin air movement products.
More from Non-Industrial Products