XP2i Digital Pressure Gauges Feature New Automatic Calibration Alerts
Press Release Summary: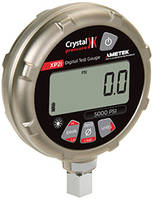 The XP2i pressure gauge now features a customizable, automatic calibration reminder system. It provides on-screen alerts prior to due dates, warning alerts on and after due dates, and the ability to lock gauges after their calibration due dates. The product is suitable for oil and gas, power generation, food and beverage, plastics, process, chemical, petrochemical, pharmaceutical, and industrial safety applications.
---
Original Press Release:
Automatic Calibration Alert Added to Crystal Engineering XP2i Digital Pressure Gauge
New feature reduces chances for regulatory fines for use after calibration date

Crystal Engineering, a unit of AMETEK Sensors, Test & Calibration (www.ametekcalibration.com), has added an automatic calibration reminder system to its widely used XP2i pressure gauge. The new system greatly reduces the possibility of using gauges after their calibration dates and potentially incurring regulatory fines.

Manual record-keeping and notifications are replaced by customizable on-screen alerts prior to the due date, warning alerts on and after the due date, and an optional capability to lock the gauge from use after its calibration due date. Dates, reminders and message types are set by supervisors through free software.

Because they measure critical performance metrics of a wide range of equipment, properly calibrated pressure gauges can be important factors in worker safety, pollution control and/or product quality.

Applications:  Oil & gas  •  Power generation  •  Food & beverage  •  Plastics  •  Process industries  •  Chemical  •  Petrochemical  •  Pharmaceuticals  •  Industrial safety  •  Quality assurance

The rugged, intrinsically safe XP2i gauge offers high-accuracy pressure recording in the harshest environments, from offshore to desert to the Arctic. Key features include an IP-67 rated, marine-grade enclosure, a fast pressure safety valve (PSV) mode, custom engineering units, and a leak-free pressure fitting connection.

Active Digital Temperature Compensation corrects the sensor for changes in temperature. It is guaranteed to 0.1% of reading accuracy from -10 to 50° C. Every XP2i comes with an ISO 17025 calibration report – NIST-traceable, A2LA accredited, internationally recognized by ILAC–with test data at 5 temperatures.

Its high contract liquid crystal display is readable in all conditions from bright sunlight to dark (with included backlight).

Crystal Engineering produces highly accurate, field-grade testing and calibration equipment for measurement applications in oil and natural gas, power generation, waste water, water supply, manufacturing, aerospace, and aircraft maintenance. It is a unit of AMETEK Test & Calibration Instruments, a division of AMETEK, Inc., a leading global manufacturer of electronic instruments and electromechanical devices with annualized sales of more than US$4.3 billion.

Photo Captions: Text and high resolution photos available at:  www.icmglobalnews.com/releases/ic1840-en.htm  
Screen display on Crystal Engineering XP2i digital pressure gauge (right) automatically informs operator when calibration is required. Notification options are set in free software (left).

Editors Note: Please confirm if you plan to publish this release using the form at: www.icmglobalnews.com/releases/ic1840-en.htm or email. If you publish, please send clip or issue to: email – plishman@icmglobalnews.com or: hardcopies – International Communications & Marketing, PO Box 185, Stone Ridge, NY 12484 USA. Thanks!

 
Product Sales Contact:
China
David Yu
David.yu@ametek.com.cn

Korea
SY Choi
sales@tmsolution.co.kr

Japan
Takaaki Yokoyama
yokoyama@ybk.co.jp

India
Vivek Bandekar
Vivek Bandekar@ametek.com

Pakistan
Syed Kashif Raza
kashif.raza@caltrols.com.pk

Australia/NZ
Rob Renshaw
tekcat01@tpg.com.au

Russia
Alexander Bauman
avb@artvik.com

Germany
Erwin Verhasselt
erwin.verhasselt@ametek.com

France
Thierry Domnesques
Thierry.Domnesques@ametek.com

Spain
Josep Montes
sedem@sedemsa.es

Poland
Slawomir Kowalczyk
skowalczyk@introl.pl

Czech Republic
Tectra
jankaspar@tectra.cz

Italy
Alessandra Ferrari
info@fasint.it

Norway
Håkon Ditlefsen
hakon@processpartner.no

Mexico
MB Inst
marco@midebien.com
More from Communication Systems & Equipment