Xilinx Device Converter allows conversion to upgraded modules.
Press Release Summary: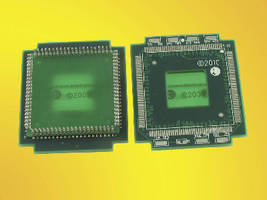 With Model DC-QFP/PLCC84-J-01, Xilinx XC95216 160-pin QFP can be used on existing 84-position PLCC SMT lands. Converter is designed to receive XC95216 Xilinx CPLD on top and convert pin mapping to XC95108 Xilinx CPLD. Compatible with both hand soldering and reflow processes, unit consists of footprint and pin out conversion multi-layer PCB with true j-lead adapter for SMT processing. J-leads are constructed with precise lead frame assembly to accomplish accurate PLCC package emulation.
---
Original Press Release:

Xilinx XC95216, 160 Pin QFP can be Used on an Existing 84 Position PLCC SMT Lands via True PLCC Emulation J-lead Adapter



BURNSVILLE, MN - Ironwood Electronics' new Xilinx device converter - DC-QFP/PLCC84-J-01 allow upgraded system programmable Xilinx CPLD to be used in the previous generation system boards. These device converters can be soldered directly onto the SMT PLCC pads using standard solder methods. The characteristics one should consider when selecting a PLCC package emulation adapter are as follows: a) surface mountable - both hand soldering as well as reflow process compatible b) durable c) reduced stress on target board d) true j-lead design and e) access to the leads.

The Ironwood Electronics device converter DC-QFP/PLCC84-J-01 consists of footprint and pin out conversion multi layer PCB with a true j-lead adapter for SMT processing. The j-leads are constructed with a precise lead frame assembly to accomplish the accurate PLCC package emulation. DC-QFP/PLCC84-J-01 is designed to receive XC95216 Xilinx CPLD on the top and converts pin mapping to XC95108 Xilinx CPLD. This allows system board of six 36V18 function blocks, providing 2400 usable gates with propagation delays of 7.5ns upgraded to twelve 36V18 function blocks, providing 4800 usable gates with propagation delays of 10ns.

Pricing for the DC-QFP/PLCC84-J-01 is $136.00 at qty 1 with reduced pricing available depending on quantity required.

Ila Pal

Vice President of Marketing

Phone: 800-404-0204

Email: ila@ironwoodelectronics.com

Skype: ila.pal

Twitter: http://twitter.com/ironwood_elect

Linkedin: http://www.linkedin.com/in/ilapal

More from Machinery & Machining Tools