XFT 2500 Speed Press comes with FEIN monitoring technology.
Press Release Summary: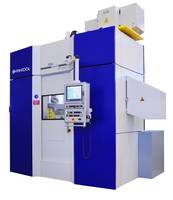 Designed with increased stiffness, XFT 2500 Speed Press is equipped with strong knuckle joints. Suitable for parts made of high-tensile materials up to 8 mm thicknesses with more than 100 strokes per minute, unit features FEIN monitoring technology. Offering up to 3000 kN press force at the tip, XFT 2500 ensure high productivity and quality for fine blanking parts.
---
Original Press Release:
New XFT 2500speed for Highest Fineblanking Requirements
The reinforced model of the XFT 2500speed press offers an effective solution for the special challenges in fineblanking production and sets new standards.
This model is equipped with stronger knuckle joints. This increases the press force at the tip to 3000 kN (time-limited). For the user of the XFT 2500speed, this modification means new possibilities in fineblanking production. Due to the additional reinforcement, this model is also suitable for parts made of high-tensile materials with thicknesses of up to 8 mm at more than 100 strokes per minute. This means a lower load on the press during operation with conventional tools and greater flexibility due to the occasional use of tools with higher power requirements.
In addition, Feintool has equipped the new XFT 2500speed with a lot of innovations that ensure the highest productivity and perfect quality of the fineblanking parts. This includes increased stiffness and a quick-change system for tools. The latest control technology and innovative energy management are also part of the new press model. In addition, the new XFT 2500 speed is equipped with FEIN monitoring, the intelligent analysis and maintenance tool and Feintool's contribution to industry 4.0
Feintool Equipment Corp.
6833 Creek Road,
Cincinnati, OH 45242, USA
Phone: +1 513 791 00 66
More from Mechanical Components and Assemblies