XF500Zm Benchtop Marking Solution with a Motorized Z-Axis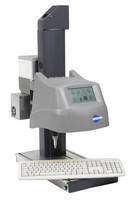 XF500Zm is a benchtop marking solution with a motorized z-axis and touch sensor to automatically seek and mark various size parts in the marking area. It stands out through its ease of use and the accuracy and quality of marking due to the precise control of its M1Cz stylus and motorized Z-axis. Ideal for single or small
batch markings, it is the solution to numerous applications: traceability of batches of parts in a machine shop, marking for aerospace sub-contracting, rework stations in the automotive industry, etc...

First of all, the XF500Zm is easy to use. Simply position it on a workbench, plug it in and it is ready to start marking. The keyboard is supplied and the software integrated; the user has all the traceability, text, counter, date, serial number, logos, etc. available. Marking files are easily created thanks to a wide 5.7» backlit
screen and a graphic display with icons. Logos or files may be simply imported or exported using a USB stick. Characters from 0.02» to 3.89» (0.5 to 99mm) in size can be marked on parts up to 11.81» (300mm)high in the large marking area of 3.93»x4.72» (100x120mm).

XF500Zm marking is very accurate due to the excellent quality and fine control of its M1Cz stylus. This control is provided through an optimized mechanical system associated with the latest generation electronics.

The XF500Zm operates with a single electric power supply from 90 to 230V and more than 20 languages are available on its user interface. All types of materials can be marked, whether metals (62 HRC max.), alloys or plastics and on all shapes and surfaces, whether flat, convex, machined, as-cast, painted, etc... The
XF500Zm can also receive data either via the keyboard or a bar code reader and has a memory capacity for more than 1000 files.

Finally, the XF500Zm is a highly productive marking solution. Its motorized Z-axis eliminates manual adjustments. The machine can automatically position its marking head at the correct level on the part. The XF500Zm is also fast, as it offers an excellent quality of marking at up to 5 characters/second.

To learn more about Technifor and our range of marking products please visit our website at www.gravotech.com or contact our offices at (704) 525-5230.


More from Packaging Products & Equipment