XEU1 Series Heaters features corrosion resistant GA steel cabinet.
Press Release Summary: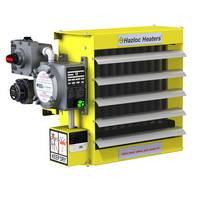 Designed for rugged industrial applications, XEU1 3 kW Heaters meet both CSA and UL Certification Standards. Unit provides high quality immersion heater, with fan and motor assembly and is offered with large control enclosure with extra port for wiring with external thermostat. XEU1 Heaters minimize moisture ingress with help of o-ring enclosure.
---
Original Press Release:
Hazloc Heaters Introduces New Models and Options on XEU1 Explosion-Proof Heater
Hazloc Heaters, a leading manufacturer of industrial unit heaters for hazardous and severe-duty locations, is pleased to announce the introduction of a 3kW heater model, LED pilot light and continuous fan option on the XEU1 series of Electric Forced-Air Explosion-Proof Heaters.
The XEU1 series of unit heaters are designed for rugged industrial applications to provide primary or supplementary heating for comfort or freeze protection in areas that are classified as hazardous locations. XEU1 heaters meet both CSA and UL Certification Standards to Class I & II, Div. 1 & 2, Groups C, D, F, & G and Class 1, Zones 1 & 2, Groups IIA & IIB.
The three cabinet sizes of XEU1 heaters include our ExCaliber high performance air evacuated liquid-to-air heat-exchanger cores that are available in 35 model choices of voltage and heat output combinations to meet customer specific requirements. The XEU1 heater offers the highest outlet air temperature rise, on average, across the model range compared to other competitors' products.
The rugged and versatile XEU1 heater incorporates a high quality immersion heater, high performance fan and motor assembly, a sturdy 14 GA steel cabinet with epoxy/polyester powder-coating for corrosion resistance, dual safety high limits, high-quality vent relief device, large control enclosure with an extra port for convenient wiring of an external room thermostat and enclosure O-rings to minimize moisture ingress. An added benefit is Hazloc Heaters' 36-month heater warranty.
Hazloc Heaters™ General Manager, Darren Ochosky, stated, "The addition of the 3kW heater model, LED pilot light and continuous fan option is in response to customer demand. We are dedicated to helping our customers grow and prosper by providing quality industrial heating products, technical expertise, and outstanding service. Hazloc HeatersTM is committed to a high standard of quality and on-time delivery performance."
Hazloc Heaters™ is based in Calgary, AB. For further information, please contact Darren Ochosky at 1-866-701-Heat (4328) or 403-730-2488 or visit www.HazlocHeaters.com.
company name: Hazloc Heaters
company street: 1-666 Goddard Ave. NE
company city: Calgary
company state: AB
company zip: T2K 5X3
company country: 330
phone: 4037302488
contact name: Darren Ochosky
contact title: General Manager
contact email: Darren.Ochosky@HazlocHeaters
More from Controls & Controllers