Miscellaneous Storage Equipment
Xanadu 500 Series HPC Storage Systems offer speed up to 15Gb/s.
Press Release Summary: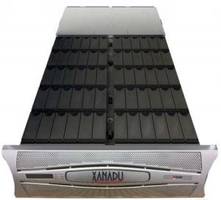 Xanadu 500 Series HPC Storage Systems enables user to archive the data to in the cloud to save. Units are available in Xanadu 500 B, Xanadu 500 G and Xanadu 500 L variants. 500B is suitable for block level connectivity and 500G features spectrum scale/GPFS appliance.
---
Original Press Release:
Xanadu 500 Series HPC Storage Systems From RAID Inc.
Xanadu 500 B for block level connectivity, 500 G featuring Spectrum Scale/GPFS appliance, and 500 Lustre appliance
RAID Inc. release its storage series.
The Xanadu 500 series is designed to simplify and deliver HPC storage at a price/performance ratio. With companies and organizations increasing their IT infrastructure to accommodate big data and analytics at record magnitudes, it is imperative that their storage systems are appropriately sized. Therefore, choosing the right platform is critical for data efficiency.
The benefits of the Xanadu 500 series are extensive. Because of its proficiency, the system reduces the time spent on a task, thus resulting in reduced operating costs. It will allow your business to get more done in a workday, allowing you to maximize company's potential, growth, and earnings. With scalability, organizations CAN start small with a pay-as-you-grow system. Additionally, this series enables data to be archived in the cloud to save, distribute globally, and keep safe during DR.
Xanadu 500 series will consist of three base products:
Xanadu 500 B: For block level connectivity
Xanadu 500 G: A full featured Spectrum Scale/GPFS appliance
Xanadu 500 L: A full featured Lustre appliance
Marc DiZoglio, CEO and founder, RAID Inc., is eager for clients to be amazed, stating, "Our goal has always been to deliver time to results for our clients in our products. The Xanadu 500 does just this and covers a very broad based, high performance storage market with sustained performance of up to 15Gb/s and over 450,000 IO/s per appliance."
Attendees of this year's SC17 in Denver, CO, will be the first to witness the unveiling of the company's Xanadu 500.
More from Machinery & Machining Tools