Press Release Summary: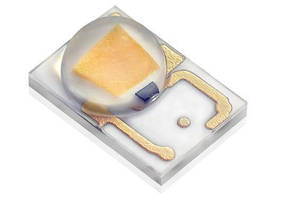 x
---
Original Press Release:

Philips Lumileds Announces Breakthrough in Light Output and Temperature Stability with Luxeon Rebel PC Amber LEDs



SAN JOSE, CA - Philips Lumileds today announced immediate availability of its breakthrough LUXEON Rebel phosphor converted amber (PC Amber) LED. The new LUXEON Rebel sets performance standards for color stability and light output performance. Users will see 2-5 times more light output and dramatically less color shift compared to typical amber LEDs. LUXEON Rebel PC Amber delivers typical flux of 70 lumens at 350mA. This performance enables solution and application providers to reduce the number of LEDs used, the cost per lumen, overall system costs, and simplify the solution manufacturing process.

"The number and breadth of applications that require amber LEDs is tremendous," said Frank Harder, VP of Product Marketing at Philips Lumileds. "Markets including automotive, entertainment, roadway, signaling, and many others use amber LEDs. With better efficiency and more light output, LUXEON Rebel PC amber makes it that much easier to reduce energy consumption with an environmentally friendly product."

There are many applications that have not switched from conventional incandescent lamps to LEDs because they didn't produce enough light and couldn't operate effectively at higher temperatures. With the advances provided by LUXEON Rebel PC Amber, yellow traffic signals will be converted, warning lights and beacons on vehicles and obstructions will switch and entertainment applications will adopt the new LEDs

Automotive applications, such as those for braking and signaling, use significant numbers of amber LEDs. With LUXEON Rebel PC Amber, manufacturers will be able to use fewer LEDs and lower other component costs because of the improved light output and particularly the stable color over temperature, something that has been problematic for many auto manufacturers. Philips Lumileds expects full automotive qualification later this year.

Complete specifications and details are published in the LUXEON Rebel PC Amber Product Brief, www.philipslumileds.com/pdfs/PB62.pdf.

Availability

The new LUXEON Rebel PC Amber LEDs are available from Future Lighting Solutions, futurelightingsolutions.com. The Future Lighting Solutions division of Future Electronics is the exclusive distributor worldwide for power LEDs from Philips Lumileds.

About Philips Lumileds

Philips Lumileds is the world's leading provider of power LEDs for illumination solutions. The company's leading light output, efficacy and thermal management are direct results of the ongoing commitment to advancing solid-state lighting technology and enabling lighting solutions that are more environmentally friendly, help reduce CO2 emissions and reduce the need for power plant expansion. Philips Lumileds' LUXEON LEDs are enabling new solutions for shop lighting, outdoor lighting, office and school lighting, and home lighting. More information about the company's LUXEON LED products and solid-state lighting technologies can be found at www.philipslumileds.com.

About Royal Philips Electronics

Royal Philips Electronics of the Netherlands (NYSE: PHG, AEX: PHI) is a diversified Health and Well-being company, focused on improving people's lives through timely innovations. As a world leader in healthcare, lifestyle and lighting, Philips integrates technologies and design into people-centric solutions, based on fundamental customer insights and the brand promise of "sense and simplicity". Headquartered in the Netherlands, Philips employs approximately 116,000 employees in more than 60 countries worldwide. With sales of EUR 26 billion in 2008, the company is a market leader in cardiac care, acute care and home healthcare, energy efficient lighting solutions and new lighting applications, as well as lifestyle products for personal well-being and pleasure with strong leadership positions in flat TV, male shaving and grooming, portable entertainment and oral healthcare. News from Philips is located at http://www.philips.com/newscenter.

More from Computer Hardware & Peripherals