Press Release Summary: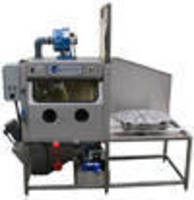 x
---
Original Press Release:

Wet Grit Blasting Exceeds Pratt & Whitney SPOP Specifications



Wet Technologies manufactures engineered, liquid abrasive (wet blast) and pressurized water surface processing and cleaning systems. Our offerings include a standard line of basic and upgradeable manually operated machines, automated configurations, and custom engineered systems. All of our products are offered with a selection of maintenance friendly, closed-loop filtration and rinse subsystems, which are designed to reduce filtered waste to a low volume form for economical removal. Wet Technologies now provides proven applications available with the wet tech process for aviation MRO (maintenance, repairs & overhaul).

Now replace dry grit with wet grit blasting to reduce or eliminate parent material removal utilizing the Wet Tech Process. We have the right equipment for you to meet and exceed the new SPOP for wet grit blasting of major rotating parts. You want reliability, capability, and ease of maintenance from a company that has excellent references throughout the aviation industry with customers such as GEAE, Pratt & Whitney, Rolls Royce, Bell Helicopter, & Sikorsky. Aqueous wet & water blast cleaning equipment & machinery for advanced applications for OEM"s parts cleaning.

Introducing advantages and examples exceeding specifications: Media can be changed easily to meet different specifications for aluminum oxide, novacite, glass bead, baking soda, plastics, and ceramics. Our high volume pumping system quickly stirs up a homogeneous, repeatable slurry. The Wet Tech process is dust free equipment that can be installed in a clean environment. The Wet Tech process and equipment is closed loop. Broken down abrasive and other partials are separated. Filtered water is returned for on demand part and view window rinsing. Nothing goes down the drain!

The Wet Technologies high volume slurry process mixes and delivers a high concentration mixture of water and media to a nozzle or multiple nozzles where regulated compressed air is introduced to adjust the process aggressiveness. The parts are then rinsed with pressurized water from the included closed loop particle filtration system. Equipment: Standard manual "glove box" systems available in square sizes: 36", 50", and 72". We can accommodate customer cabinet requirements. Many available options include: manual and powered turn tables and trolleys, vertical doors, clean exhaust systems, and various nozzle geometries. Our systems are supported by trained global distributor and service network. Call Wet Technologies for applications support and advanced engineering consultation at (631)-285 7285, FAX (631)-285-7288, email info@wettechnologies.com, or visit our all new updated website at, www.wettechnologies.com.

More from Mechanical Power Transmission