Press Release Summary: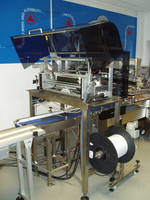 x
---
Original Press Release:

Honeytop Introduces New Zip Pak Resealable Packaging



Honeytop Tortilla Wraps Produced For A Leading Retail Brand Are Now
Packaged with Resealable Closure from ZIP-PAK®

Press-to-close feature supports increased storage life of delicate food

Whitby, UK (July 28, 2009) - Honeytop Speciality Foods has introduced convenient new resealable packaging for its range of tortilla wraps, sold under the brand of a leading UK retailer. Honeytop bought the Fuji FW3410B Alpha horizontal flow wrapper featuring a Zip-Pak RESEAL 360XM resealable closure applicator unit from Paramount Packaging, distributor of Fuji Packaging Machinery.

Honeytop, a market leader in the supply of ethnic breads, tortillas, and pancakes throughout the UK and Europe, is the first to adopt the new technology from Paramount Packaging. This enables the company to achieve higher brand differentiation and greater opening convenience, while maintaining product freshness and helping consumers reduce food waste.

"This new machine and the reclosable packaging style help us to differentiate our products on retail shelves," says David Laurence, Joint Managing Director of Honeytop Speciality Foods. "Reclosable packaging offers consumers the added flexibility and convenience they demand."

The RESEAL 360XM applicator uses the ZIP-PAK® Press-to-Close(TM) ZE70 (7mm) resealable closure, an easy-to-use secure seal that locks in the freshness and aroma of Honeytop's tortillas. This technology allows the product to be opened and reclosed at the consumer's convenience, maintaining quality until the entire contents are consumed. In addition, the new resealable package allows brand owners to keep valuable marketing messages in front of the consumer up to the last use of the pack. The hybrid machine is ideal for a wide range of industries including bakery, frozen and chilled food, as well as hardware and pharmaceuticals.

"Private label brands in the UK retail for up to 50 per cent less on average than their brand name counterparts," says Lloyd Dicks, Area Sales Manager at Zip-Pak. "The state of the global economy gives food retailers an opportunity to grow market share of their own product lines. Coupling the price difference with a resealable closure that offers convenience and reduces the risk of premature food spoilage can help private label brands compete on store shelves."

About Zip-Pak

Zip-Pak, celebrating over 20 years of resealable packaging innovations, offers seven distinct technologies that provide the framework for more than 200 patented zipper profiles. A global leader for resealable packaging solutions, Zip-Pak is an Illinois Tool Works (ITW) Company. World headquarters are located in Manteno, IL, USA.

For further information on Zip-Pak, please visit www.zippak.com or contact Elizabeth Sheaffer at +1-815-468-6500 or elizabeth.sheaffer@zippak.com.

In Europe, please contact: Ge Nijenhuis at +31 55 360 2373 or ge.nijenhuis@zippak.com.