X-Ray Microsource provides high photon intensity.
Press Release Summary: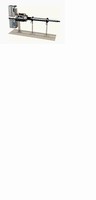 Model IµS(TM) X-ray microsource incorporates 30 W micro-focus sealed tube along with high-performance Montel multilayer X-ray optics, and can be integrated into variety of X-ray analytical systems. Sealed-tube X-ray generator has no moving parts and does not require water-cooling. Compact design makes it suitable for use in academic and industrial materials research organizations.
---
Original Press Release:

Incoatec and Bruker AXS Announce IµS, a User-Friendly High-Brilliance X-Ray Microsource



Brightest Sealed-Tube X-ray Source For a Wide Variety of X-ray Analysis Applications

LEUVEN, Belgium - August 7, 2006 - At the ECM 23 (European Crystallographic Meeting), Incoatec GmbH from Hamburg, Germany, an innovative manufacturer of X-ray optics, and Bruker AXS Inc., a leading global provider of advanced X-ray solutions for life and advanced materials sciences, today launch their novel IµS(TM) X-ray microsource, the brightest sealed-tube X-ray generator ever. IµS is an optimized, high-brilliance X-ray source incorporating a 30 W micro-focus sealed tube together with high-performance Montel multilayer X-ray optics. The IµS offers numerous benefits: it has no moving parts, has a very long lifetime without maintenance, is extremely stable, does not require water-cooling, is easy to replace, and has low cost of ownership comparable to common sealed tubes. The IµS is significantly more intense than previous microfocus source designs and provides a photon intensity which is up to five times
higher than a conventional sealed tube system that is comparable to a conventional 5.4 kW-class rotating anode generator. The IµS is thus a highly affordable replacement for older high-power rotating anode sources, offering high performance together with customer convenience and low operating costs.

"During the joint Incoatec and Bruker AXS development of the IµS, data quality was the key objective. Integrated into a single crystal diffraction setup, data was collected on insulin with 10 seconds of exposure per frame, resulting in a diffraction signal down to 1.5 Å resolution. Due to the high IµS stability, SAD phasing of insulin was possible down to 2.2 Å. The data we collected was better than data from a conventional 5.4 kW rotating anode system," stated Dr. Carsten Michaelsen, Managing Director of Incoatec.

"For our NANOSTAR(TM), Bruker AXS Small Angle X-ray Scattering instrument, there is a factor of five intensity gain of the IµS over a conventional sealed-tube setup. This intensity gain is the optimum achievable value as predicted from ray tracing calculations," commented Dr. Frank Burgäzy, Executive Vice President of Bruker AXS.

The IµS can be integrated into a variety of X-ray analytical systems for a range of applications. Its compact design makes the IµS an attractive component for many academic and industrial materials research organizations to upgrade their existing X-ray analytical instruments to cutting-edge performances.

For more information on ECM23, please visit ecm23.be

ABOUT INCOATEC

Incoatec GmbH offers the newest generation of multilayer optics used in X-ray analytic equipment and synchrotron applications. Incoatec components and subunits enable scientists to form X-ray beams according to their individual requirements in various applications such as protein crystallography, high-resolution X-ray diffractometry and X-ray fluorescence spectrometry. Incoatec manufactures ultra-high precision optics using highly modern bending and coating technology. The company's advanced current technology, as well as their continuous developments in partnerships with industry and with research centers, enable Incoatec to meet cutting-edge customer requirements worldwide. For further information, please visit www.incoatec.de

ABOUT BRUKER BIOSCIENCES (NASDAQ: BRKR)

Bruker BioSciences Corporation in Billerica, Massachusetts is the parent company of Bruker AXS Inc., Bruker Daltonics Inc. and Bruker Optics, Inc. Bruker AXS is a leading developer and provider of life science, materials research and industrial X-ray analysis tools. Bruker Daltonics is a leading developer and provider of innovative life science tools based on mass spectrometry, and also offers a broad line of chemical, biological, radiological and nuclear (CBRN) detection products for homeland security. Bruker Optics is a leading developer, manufacturer and provider of research, analytical and process analysis instruments and solutions based on infrared and Raman molecular spectroscopy technology. For more information, please visit www.bruker-biosciences.com

FOR FURTHER INFORMATION:
Michael Willett, Public Relations and Investor Relations Officer
Tel: (978) 663-3660, ext. 1411
Email: ir@bruker-biosciences.com

More from Electronic Components & Devices