X-Ray Inspection Systems handle large and tall packages.
Press Release Summary: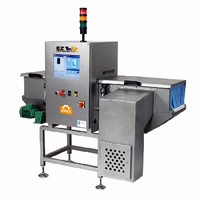 Designed for belt widths up to 14 in., Model XR-41 inspects packages or loose goods where multiple products and belt speeds are required. System is suited for detection of foreign metal, glass, calcified bone, and PVC, as well as mass and missing or defective objects. For production lines running tall cylindrical containers, double-beam Model XR-51 provides glass-in-glass or metal-in-metal inspection. Both include 15 in. color touch screen and stainless steel construction.
---
Original Press Release:

Eriez® XR-41 and XR-51 X-Ray Inspection Systems are Equipped to Handle Large, Tall Packages Respectively



Erie, Pa. -- Eriez® has two new models of X-Ray inspection systems: The XR-41 and XR-51. These advanced machines are designed to identify contaminants, control product and package mass, scan for missing or damaged product, detect packing voids and confirm fill levels.

Eriez XR-41 is a larger version of Eriez' XR-21 system, designed for belt widths up to 14-inches. This unit is available in two different models; one for packaged goods and another for loose product flows. As with the Model XR-21, it offers enhanced inspection capabilities for packaged or loose goods where multiple products and belt speeds are required. This system is ideal for foreign body detection of metal, glass, calcified bone, PVC and to inspect packages for mass and missing or defective objects. These machines are ideal for larger packages.

Eriez XR-51 is a double-beam system for glass-in-glass or metal-in-metal inspection. It is designed for use on production lines running taller cylindrical containers such as jars and cans. This model is superior at detecting small statistical variations in the product that signal contamination or deviation from accepted specifications.

Both the XR-41 and XR-51 feature a 15-inch color touch screen, stainless steel construction and auto set-up capability. Additionally, these models have connectors, which may be networked as an SQL client with full remote support facilities. For ease of operation, XR-41 and XR-51 do not require frequent calibration.

Eriez automated X-Ray inspection systems employ advanced linear array technology for superior sensitivity, speed and sophistication for both loose product flow and packaged inspection. They provide real time analysis of process and packaged foods, pharmaceuticals and other goods requiring the highest levels of product integrity. Product inspection is achieved through a computer-controlled family of low energy generators and a high-performance computer image analysis system.

Eriez is recognized as world authority in advanced technology for magnetic, vibratory and inspection applications. The company's magnetic lift and separation, metal detection, x-ray, materials feeding, screening, conveying and controlling equipment have application in the process, metalworking, packaging, recycling, mining, aggregate and textile industries. Eriez manufactures and markets these products through eleven international facilities located on six continents. For more information, call toll-free (888) 300-ERIEZ (3743) within the U.S. and Canada. For online users, visit www.eriez.com or send e-mail to eriez@eriez.com. Eriez World Headquarters is located at 2200 Asbury Road, Erie, PA 16506.

Related