X-Ray Inspection System checks products in glass containers.
Press Release Summary: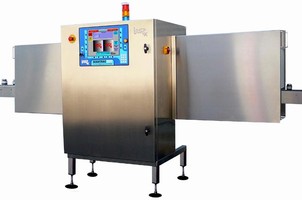 Using 2 x-ray beams, ScanTrac DUO(TM) inspects packaged products for foreign material contamination as well as packaging imperfections and underfills at conveyor speeds to 700 fpm. It inspects as many as 1,400 containers/min while ensuring inspection coverage on bottom of glass bottles and jars. With false reject rate of less than 1:10,000, side-view system provides real-time non-contact inspection and detection as well as automatic rejection of out-of-tolerance products.
---
Original Press Release:

InspX Introduces New ScanTrac DUO(TM) X-Ray Inspection System



Pack Expo Vegas Booth #C-2902

Applications: foods, beverages, pharmaceuticals and other products packed in glass bottles and jars

July 30, 2007 - InspX, a leading manufacturer of x-ray inspection systems worldwide, introduces the new ScanTrac DUO(TM) at Pack Expo Vegas. This patent-pending x-ray system uses two x-ray beams to achieve dual detection for maximum inspection accuracy and superior product quality. The ScanTrac DUO ensures inspection coverage on the bottom of glass bottles and jars that might be partially obscured from a single beam inspection.

ScanTrac DUO inspects packaged products for foreign material contamination while also detecting packaging imperfections and underfills. Dual detection is ideal for products packed in glass bottles and jars since 95 percent of these containers feature a push-up bottom that creates a "shadow" that makes detection of contaminants resting on the bottom of the container difficult to identify with just one x-ray beam. By using two x-ray beams, the dual detection approach inspects two views simultaneously in one system, which greatly increases detection accuracy to significantly improve product quality.

ScanTrac DUO provides real-time, non-contact inspection, detecting and automatically rejecting out-of-tolerance products from the production line. Using effective low-energy x-ray and sophisticated image processing software, ScanTrac DUO detects the smallest contaminants. With this high sensitivity and an industry-leading false reject rate of less than 1:10,000, ScanTrac DUO offers superior performance capabilities.

InspX's ScanTrac DUO reliably detects product contamination at conveyor speeds of up to 700 feet per minute, inspecting as many as 1400 containers per minute. Handling products up to 8 inches in diameter and 16 inches in height, with a 12-inch inspection height, the compact ScanTrac DUO requires only eight linear feet of conveyors space. This side-view x-ray system can be mounted over an existing conveyor, which eliminates costly plant modifications.

The system offers adjustable x-ray energy levels to accommodate a range of products. Container diameter changes can be made in only two minutes, with no tools and no change parts required. Same-diameter product changeovers can be handled in seconds via pre-programmed product recipes. The system features a multi-lingual user interface, built-in diagnostics, auto-calibration and remote monitoring.

ScanTrac DUO meets all U.S. and European standards for x-ray inspection systems. It is CE mark certified and features a NEMA 4X / IP65 enclosure that allows operation in washdown areas.

About InspX
InspX, based in Fremont, California USA, is a leading manufacturer of x-ray inspection systems for the food, beverage, pharmaceutical, cosmetics/personal care and other industries. InspX technology and customer support is available worldwide through a network of global sales and service representatives.

Reader Inquiries To:
Allan Anderson, President
InspX LLC
4025 Clipper Court
Fremont, CA 94538 USA
Tel: 510 226 6686
Fax: 510 226 6687
Email: info@kineticcommunication.com
URL: www.kineticcommunication.com

More from Material Processing