X-Ray Inspection Platform features CNC capabilities.
Press Release Summary: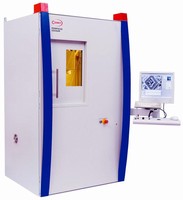 FEINFOCUS COUGAR X-Ray platforms with CNC capabilities enable operators to program and automate X-Ray inspection procedures as well as perform 2D measurements of hidden details during failure analysis without requiring calibration. Teach-in buttons facilitate programming process. Within 1 x 1 m footprint, system includes microfocus x-ray tube up to 160 kV, standard 5-axis manipulator with AIM Technology(TM), digital flat panel detector, and hardware-driven anti-collision system.
---
Original Press Release:

COMET Launches Improved FEINFOCUS COUGAR X-Ray Platform



GARBSEN, GERMANY - COMET announces an important upgrade to its line of FEINFOCUS COUGAR X-Ray platforms: Computerized Numerical Control (CNC). This new function enables operators to program and automate X-Ray inspection procedures, as well as perform precise 2D measurements of hidden details during failure analysis without the need for calibration. CNC reflects the commitment of COMET to provide its global customer base with automated, easy-to-use X-Ray inspection systems as their inspection needs evolve.

CNC provides operators with numerous benefits, facilitating an efficient failure analysis process. With the ability to program the sophisticated manipulation system of the FEINFOCUS COUGAR, CNC can automatically position the optical overview camera in the optimal position for inspection. Operators of the FEINFOCUS COUGAR can even program the entire inspection process with CNC, including X-Ray parameters and image processing, eliminating costly variables associated with manual control. User-friendly "teach-in" buttons enable easy programming of the system.

The FEINFOCUS COUGAR X-Ray platform provides a cost-effective X-Ray inspection solution for a wide range of inspection needs, from 2D failure analysis of manufacturing components to advanced 3D imaging of complex BGA and wafer-level packages. The small, ergonomic design of the system makes it ideal for any manufacturing environment, as it features a small footprint (approximately 1 m x 1 m), low system weight (approximately 1,450 kg), and convenient front- and side-door service access. The FEINFOCUS COUGAR includes a microfocus X-Ray tube up to 160 Kv, standard 5-axes manipulator with Auto Isocentric Motion (AIM) Technology(TM) for oblique viewing, CNC Capabilities, FEINFOCUS HDX-Ray(TM) real-time 16-bit image processing, digital flat panel detector, and a hardware-driven anti-collision system.

COMET is a successful international technology company in the growth markets of security, inspection, electronics and communication. As an expert in the field of applied physics, COMET provides a complete and highly flexible portfolio of components, modules, systems and services from a single source.

COMET's Business Unit FEINFOCUS is the world's leading manufacturer of high-resolution automated X-Ray inspection systems, with more than 2,500 installations worldwide in high-productivity environments such as Electronics, Semiconductor Packaging, Automotive, Aerospace, and Medical. The company also offers full in-house X-Ray inspection services, such as failure analysis and component defect detection, and is a multi-year recipient of the electronics industry's prestigious Service Excellence Award. As the pioneer of Microfocus, Nanofocus, and Multifocus X-Ray inspection technologies, Business Unit FEINFOCUS has demonstrated leadership in product innovation in X-Ray inspection, including True X-Ray Intensity (TXI) control, AIM oblique inspection technology, and PCT/ACT imaging. The company encourages its customers to participate in on-site customer training and system demonstration, and invites them to take full advantage of its applications development center in Stamford, CT USA.

COMET was founded in 1948 and is based in Flamatt near Berne, Switzerland. Production is carried out in Switzerland and Germany; the sales subsidiaries in the U.S. and China are complemented by a worldwide network of representatives.

COMET: The X-perts for security, inspection, electronics, and communication

More from Architectural & Civil Engineering Products