X-Ray Film Processor targets NDT applications.
Press Release Summary: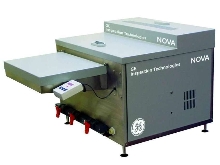 With capacity to handle up to thirty 13.8 x 16.9 in. films/hr and range of developer immersion times from 12-150 sec, Nova suits non-destructive testing applications in industrial environments. Compact unit has 1.3 ft² footprint, weighs 176 lb, and is constructed in stainless steel, aluminum, and PVC for corrosion resistance. External chemistry and water connections are positioned below feed table with light-tight cover to protect against ingress of dust or dirt.
---
Original Press Release:

Nova - New, Compact, Industrial X-Ray Film Processor From GE Inspection Technologies Offers Superior Quality And Straightforward Operation


Huerth, Germany, January, 2005. The new, competitively priced NOVA X-ray film processor is the latest addition to the GE Inspection Technologies' range of field-proven processors. It has been specifically designed for ease-of-operation in NDT applications in industrial environments, from small service laboratories to demanding pipeline projects, where its compact size and light-weight design allow easy transportation and its low power consumption reduces operating costs.

The NOVA has a standard capacity to handle up to thirty 35 x 43cm (13.8 x 16.9 inches) films per hour and a range of developer immersion times from 12-150 seconds. It will find application throughout the NDT industry, from foundries to inspection companies. It is ideal for large scale pipeline inspections carried out by split teams. It can be used to upgrade laboratory systems from manual to automatic X-ray film processing and it will provide the necessary flexibility to companies who need a back-up processor or to complement their digital solutions.

With a footprint of just 0.4m2 (1.3ft²) and weighing only 80kg (176lb), the NOVA can be used as a table-top or free-standing model and can be easily fitted into a van for transport to site. It is ruggedly constructed in stainless steel, aluminum and PVC to ensure corrosion resistance in the most arduous of conditions and all external chemistry and water connections are neatly positioned below the film feed table. An intelligent power management system keeps energy costs to a minimum and a versatile, built-in transformer allows users to "plug in and play" from virtually any conventional mains voltage supply, worldwide.

Straightforward and simple operation has been a prime consideration throughout the development of NOVA. A standard, light-tight cover protects the feed table against the ingress of dust or dirt and allows the operator to turn on the lab light while the NOVA is processing film and a control display provides visual reference and easy setting of all process parameters, such as temperatures, dryer settings and process cycle. There is an automatic stop/start function and an OK light and buzzer indicates when the next film can be inserted.

Servicing is simple yet comprehensive and monitoring and diagnostics can be carried out on-site by GE Inspection Technologies technicians, operating on standard or customized service agreements, or remotely through an RS232 connection. On-site maintenance and servicing is also easy and all components which could need replacement during the lifetime of the unit are conveniently and readily accessible on the side of the NOVA processor.

The NOVA incorporates many of the outstanding features associated with GE Inspection Technologies' film processors, such as "Intelligent Replenishment". Five scanning rollers scan the film surface and an electronic pulse is emitted to initiate the feeding of fresh chemicals into the processing tanks. The processor is always ready for use, even if it has been idle for several hours. It is also extremely quiet in operation and, by using an infra-red drying system, where the heat is directed only at the film to be dried and not at the surrounding air, the working environment is maintained at a comfortable level.

Flexibility has also been built into the NOVA with the availability of a package of film processor enhancements. This "NOVA Comfort Kit" package includes a water-saving solenoid valve and circulation pump, which restrict the water consumption according to the film surface scanned. There is also a cartridge water filter for connection to the processor feed line and two 30 liter (7.9 gallon) replenishment tanks which can be stored under the optional table.

About GE Inspection Technologies

GE Inspection Technologies is a global leader in technology-driven inspection solutions that deliver customer productivity, quality and safety. The company designs, manufactures and services radiographic, ultrasonic and eddy current equipment to test materials without deforming or damaging them. Its products are used in a wide range of industries, including Aerospace, Power Generation, Oil & Gas and Automotive. The company has 11 application centers around the globe and offers a range of services including repair, calibration, training and upgrades. GE Inspection Technologies has 1,000 employees at more than 25 facilities in 25 countries worldwide. To learn more about GE Inspection Technologies visit www.GEInspectionTechnologies.com.

Please direct all sales enquiries to:

Email: geinspectiontechnologies@ae.ge.com
Web: www.GEInspectionTechnologies.com

More from Sensors, Monitors & Transducers