X-Ray Detectable Plastics help protect food zone.
Press Release Summary: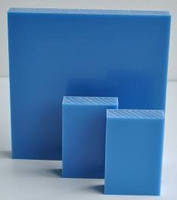 Available in ½-6 in. diameter rods and 3/8-4 in. thick sheets, Sustarin® C XDT Acetal Copolymer and Polystone® M XTD UHMW-PE can be detected by X-ray inspection equipment for pieces as small as 3 mm³ on production lines running as fast as 250 fpm. Both materials are FDA-compliant for direct food contact. Detected in various types of packages, including metal cans, glass jars, and plastic containers, materials are suitable for scraper blades, filler/mixer components, wear/slide guides, and baffles.
---
Original Press Release:

Curbell Helps Protect the "Food Zone" With X-Ray Detectable Plastics



Orchard Park, New York - Curbell Plastics, one of the nation's premier suppliers of plastic sheet, rod, tube, film, adhesives, sealants, and prototyping materials, has partnered with Röchling Engineering Plastics to commercialize x-ray detectable grades of Acetal and UHMW-PE. Available as sheets or rods, these two new materials, Sustarin® C XDT and Polystone® M XTD, can be detected by X ray equipment for pieces as small as 3 cubic millimeters on production lines running as fast as 250 feet/minute.

Plastics are the material of choice for use in the "Food Zone" - the part of the production line where food is processed prior to packaging and potentially subject to contamination. Many food manufacturers choose plastics, especially for machined parts in filling, sorting, and packaging equipment, because plastics are more forgiving in misalignment and incorrect set-up situations and they reduce or eliminate the need for lubrication. However, one of the challenges with using plastics is their inability to be detected with x-ray inspection equipment, which is essential for preventing food contamination and costly recalls.

"If you employ x-ray inspection on your processing line, the use of x-ray detectable plastics in your machinery can help you ensure product safety and integrity," stated Jeff Wilson, Business Development Manager for Engineering Materials at Curbell. "Recalls can destroy the value, reputation, and profitability of a food product or brand. Using detectable plastics on the processing machinery can help to eliminate contamination issues in packaged foods and help food processors to maintain the quality of their products as well as their public image."

Developed for use as fabricated components found in modern, high speed food processing machinery, these two new x-ray detectable materials are visible to x-ray inspection equipment used during the post-package inspection stage. Sustarin® C XDT, an Acetal Copolymer, is easily machined and provides good dimensional stability when machining close tolerance parts. It exhibits a low coefficient of friction and excellent wear properties, especially in wet environments. Polystone ® M XTD, a UHMW-PE material combines a very low coefficient of friction with good wear properties and outstanding impact strength.

Both materials are FDA-compliant for direct food contact and they are available in ½-inch to 6-inch diameter rods and 3/8-inch to 4-inch thick sheets. The materials are easily detected in various types of packages, including metal cans, glass jars, and plastic containers. They are suitable for use in many applications, such as scraper blades, filler and mixer components, wear and slide guides, and baffles.

For more information on these two new materials or to reduce manufacturing costs, improve production and gain greater product reliability, visit our website at www.curbellplastics.com or contact Jeff Wilson at 804-496-4040.

About Curbell Plastics

For over 70 years, Curbell Plastics has been supplying plastic sheet, rod, tube, films, adhesives, sealants, tapes, prototyping and tooling materials, and fabricated parts and has evolved into one of the nation's largest plastics suppliers. Curbell serves customers ranging from small local businesses to large Fortune 500 throughout the United States and Canada from locations nationwide. Curbell Plastics, Inc. is a subsidiary of Curbell, Inc., a privately-held business established in 1942 and headquartered in Orchard Park, NY. Curbell Plastics, Inc. is a progressive organization driven by strong values with a proud Dun & Bradstreet credit rating of a 4A1.

Put Us to Work - For You!(TM)

More from Lubricants