X-band Direct Synthesizer/Upconverter SYN152 features LVTTL switching of 50 ns.
Press Release Summary: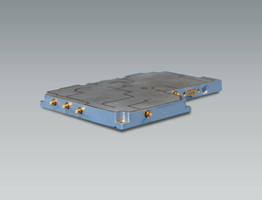 Suitable for airborne environments, SSMP- and SMP-connected lightweight SYN152 operates from -40o C to +85o C. Featuring four x2, x3, x4, and x17 multiplied output ports with various powers in either the L-, S-, or X-bands as well as a X-band BIT detector, unit comes with UHF input power at -6 dBm. Synthesizer can output 0 dBm in the S-band, 2 dBm in the X3 L-band, 4 dBm in the X2 L-band, and 10 dBm in the X-band.
---
Original Press Release:
X-band Synthesizer and Upconverter with Low Phase Noise and Harmonics
The SYN152 features four x2, x3, x4, and x17 multiplied output ports with various powers in either the L-, S-, or X-bands as well as a X-band BIT detector. With UHF input power at -6 dBm, this synthesizer can output 0 dBm in the S-band, 2 dBm in the X3 L-band, 4 dBm in the X2 L-band, and 10 dBm in the X-band. The SYN152 exhibits low residual phase noises, a fast LVTTL switching of 50 ns between the multiplied X-band output and the IF supplied output, and excellent harmonics of - 65 dBC in a low profile, hermetically sealed, and laser welded package.

Ideally suited for airborne environments, this SSMP- and SMP-connected lightweight device operates from -40o C to +85o C.

For more information, visit the TRAK Product Library to download a full datasheet on the SYN152.

To download a datasheet visit www.TRAK.com

About TRAK

TRAK Microwave Corporation designs and manufactures RF and microwave passive components and subassemblies for the defense, space and established reliability industrial communities. The products include a range of standard products and application specific solutions in coaxial, microstrip or waveguide technology which provide our customers and prospective customers with a broad choice of technologically differentiated solutions with an unrivalled existing portfolio of ferrite isolators, circulators, transitions, terminations, loads and couplers optimized to meet exacting requirements and environments.

About Smiths Microwave

Smiths Microwave, www.smithsmicrowave.com is a leading provider of components, sub-assemblies, antennas and system solutions, primarily for defense, aerospace, and telecom applications, that test, filter, protect, and process high-frequency signals for wireless communication networks. As a family of brands, Kaelus, RadioWaves, TECOM, TRAK, Transtector, PolyPhaser, LORCH, TRAK Limited, Millitech, EMC Technology, and Florida RF Labs provide exacting solutions for antenna systems for the military and commercial aerospace, transceivers, frequency sources, timing systems, component applications and a wide range of innovative RF, Microwave and surge protection solutions for the wireless telecommunications sector.

Alongside Smiths Connectors and Smiths Power, Smiths Microwave is part of the Smiths Interconnect division of Smiths Group, www.smiths.com, a global leader in applying advanced technologies for markets in threat and contraband detection, energy, medical devices, communications and engineered components. Smiths Group employs more than 23,500 people in over 50 countries.

For more information contact:

Mark Cressman
Smiths Microwave Subsystems
mcressman@smithsmws.com
813-901-7200
More from Machinery & Machining Tools