Wurth Electronics Presents USB Type-C Development Kit, TI-PMLK and 200W Wireless Power Development Kit at APEC 2019
Press Release Summary: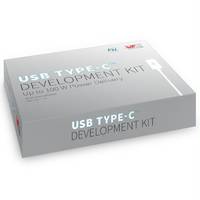 USB Type-C development kit features high-power and high-speed USB Type-C connectors
TI-PMLK is composed of a single board and experiment book; for studying magnetics in power supply
---
Original Press Release:
Wurth Electronics to Make Big Appearance at APEC 2019
Watertown (USA), March 4th, 2019 – Wurth Electronics is excited to announce their return to the APEC exhibition as a Gold Sponsor in Anaheim, California, March 18th-20th.
At the booth, #421, Wurth Electronics will showcase the new USB Type-C Development Kit and TI-PMLK. The STMicroelectronics USB Type-C Development Kit features high-power, high-speed USB Type-C Connectors, and the TI-PMLK (Texas Instruments Power Management Lab Kit) is composed of a single board and experiment book; perfect for studying magnetics in power supply. Wurth Electronics will also display their new 200W Wireless Power Development Kit, coinciding with the release of the new Trilogy of Wireless Power.
Attendees can also use the official Wurth Electronics Snapchat filter and hashtag, #MadHatter19, when they pick up their iconic 5th edition of the Wurth Electronics hat at booth #421.
"We have been really excited about the traction we've experience in the market after our consecutive years of Diamond partnership, and we look forward to seeing what APEC has to bring us in Anaheim," says Lindsey Esche, Marketing and Communications Manager at Wurth Electronics.
Wurth Electronics will also host a variety of presenters at the PSMA Magnetics Workshop and PSMA capacitor workshop, run by Pierre Lohrber, Wurth Electronics eiCap Division Manager, prior to the exhibition. These presentations include "Impact of Near Magnetic Field on Power Train Performance, "Getting the Heat Out," "Supercapacitors- Getting a Clear Picture of EDLC, Gold, Hybrid, and More, and "High Power Converter."
Wurth Electronics technical demonstrations being conducted at the PSMA workshops, including ""Correlation of Calculated Power Losses with Temperature Rise Measurements," and "150W Buck/Boost Converter & Efficiency Comparison MLCC vs. H-Chip Aluminum."
The PSMA magnetics workshop will close with a presentation from Alexander Gerfer, CEO Wurth Electronics EiSos, "What is Right with Magnetics."
The must-see sessions from Wurth Electronics at APEC 2019 include presenters George Slama, Senior Application and Content Engineer; Jared Quenzer, Application Engineer; Martin Haug, Division Manager MagI³C R&D, and Stephan Menzel, Head of Product Marketing and Technical Engineering, eiCap / eiRis.
Along with chairing a session, Slama will make multiple appearances, including two presentations "Avoid Designing Custom Inductors by using REDEXPERT," at an exhibitor session, and "Protect the Ports! Magnetic Design Fundamentals - What they didn't' tell you."
Quenzer will introduce "Filter Attenuation Measurement Method Using Electrical Fast Transient Burst (EFTB)," and Haug will present "Power Supply on Chip (Pwr SOC) vs Power Supply in Package (Pwr SIP) vs Discrete. What is the future?" during a rap session.
Menzel will present "Will the Real Supercapacitor Please Stand Up?" on the final day of the exhibition.
For more information, visit www.we-online.com/apec.
About Wurth Electronic
Wurth Electronics Midcom is a global leader in the design and manufacture of custom magnetics. A standard line of magnetics is offered, including inductors, ferrites, chokes, and EMI shielding materials. Recently, the electromechanical and interconnect line was added to the product offering, which includes Board-to-Board, Wire-to-Board, Terminal Blocks, and Input/Output Communication.
Customers in Asia, Europe and the Americas are supported through a local direct technical sales network, regional design and applications engineers and manufacturing based in the People's Republic of China.
Our standard lines and custom-made transformers are used around the world in LED lighting, smart grid and utility metering, industrial controls, telecom (CPE and CO), home automation, and home appliances.
Wurth Electronics Midcom offers all catalog products in stock. Free samples are offered to customers on connectors and both catalog and custom magnetics.
More information at www.we-online.com
More from Non-Industrial Products