Wurth Electronics Midcom Transformers Approved for Use with SHDSL- 1 Channel, 2 Channel, and 4 Channel Applications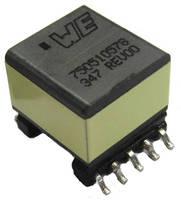 Watertown (USA), 18 May 2017 – Wurth Electronics Midcom announces new data isolation transformers for use in SHDSL applications. These MID-DSLITL transformers are built on a self-shielding EP package, offer excellent longitudinal balance and very good THD performance. They are designed to meet UL & IEC standards and a dielectric of 1500VAC.
"SHDSL is the best technology available in the Telecom market when it comes to transmitting small to medium data rates on long copper lines. One of the key components for data transmission applications is the data isolation transformer." explained Swaroop Vaidyanath, Product Marketing Engineer for Telecom Products.
The application of these transformers include infotainment systems in airports and metro stations, video surveillance where PoE is beyond reach, vending machines, banking terminals, traffic controls, industrial communication systems, business use, and reach extenders and repeaters.
To review the transformer family, visit www.we-online.com/shdsl.
About Wurth Electronics Midcom, Inc.
Wurth Electronics Midcom is a global leader in the design and manufacture of custom magnetics. A standard line of magnetics is offered, including inductors, ferrites, chokes, and EMI shielding materials. Recently, the electromechanical and interconnect line was added to the product offering, which includes Board-to-Board, Wire-to-Board, Terminal Blocks, and Input/Output Communication.
Customers in Asia, Europe and the Americas are supported through a local direct technical sales network, regional design and applications engineers and manufacturing based in the People's Republic of China.
Our standard lines and custom-made transformers are used around the world in LED lighting, smart grid and utility metering, industrial controls, telecom (CPE and CO), home automation, and home appliances.
Wurth Electronics Midcom offers all catalog products in stock. Free samples are offered to customers on connectors and both catalog and custom magnetics.
More information at www.we-online.com
Wurth Electronics Midcom, Inc.,
Lindsey Esche,
121 Airport Drive, PO Box 1330,
Watertown, SD 57201 USA
Phone: +1 605 886 4385,
Toll-free (in the U.S.)
Phone: +1 800 643 2661,
E-mail: lindsey.esche@we-online.com,
Homepage: www.we-online.com
More from Mounting & Attaching Products