Wrist Strap/Footwear Tester verifies ESD compliance and safety.
Press Release Summary: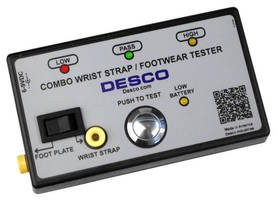 Combo Tester (19280) verifies functionality of operator's wrist strap and footwear in ESD-protected area. Along with stainless steel test button, features include rocker switch for selecting wrist strap or footwear test. Green light indicates passing result for wrist strap or footwear, while red and yellow lights plus audible alarm indicate failing result. Other versions are available with stand and foot plate (19282) or stainless steel foot plate (19283).
---
Original Press Release:

Desco Introduces Improved Combo Tester



Chino, CA – Desco has introduced an improved Combo Tester for verifying the functionality of an operator's wrist strap and footwear in an ESD protected area. A rocker switch allows the operator to select a wrist strap or footwear test.  A new stainless steel test button is designed for durability and long life. A green light indicates that the wrist strap or footwear is passing.  Red and yellow lights plus an audible alarm indicate when the wrist strap or footwear is failing. Desco Combo Testers are made in the United States of America.



19280 Combo Tester

19282 Combo Tester with Stand and Foot Plate

19283 Combo Tester with Stainless Steel Foot Plate



Please contact Service@Desco.com for more information.



About Desco: Desco manufactures ESD control products used in the electronics production industry. Desco has six manufacturing locations in the USA. Products made by Desco include wrist straps, foot grounders, work surface mats, shielding bags, floor finish, floor mats, ionization, smocks, continuous monitors and ESD audit equipment. Desco's products are available through distributors, resellers, and direct. A network of manufacturer representatives offers sales and technical support in most US states, Mexico, and Canada.



For additional information email Service@Desco.com or visit Desco.com



Contact: Alyssa Smith

781-821-8370

More from Controls & Controllers