Wright Tool Offers Broadest Range of Large-Sized 12-Point Combination Wrenches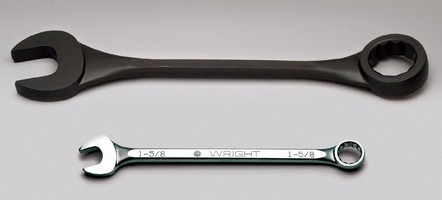 BARBERTON, OHIO - April 2008 - Wright Tool Company offers large-sized, heavy-duty, flat stem, 12-point combination wrenches, ranging from 1-5/16 inches to 4 inches, and 36 millimeters to 80 millimeters.

All Wright large-sized combination wrenches are heavy-duty and feature the patented heavy-duty round-stem design that provides the user a comfortable, easy fit in the hand. Because of the design, the wrenches can be used and carried two at a time, side by side. In addition, the wrenches stack one on top of each other for easy storage and the flat sides keep them from rolling.

Wright Tool combination wrenches with sizes 1-5/16 inches through 2-3/4 inches and 36 millimeters to 70 millimeters are available in chrome satin finish, while wrenches with sizes 2-3/16 inches to 4 inches and 75 millimeters to 80 millimeters feature black industrial finish.

Wright Tool manufactures a complete line of more than 4,000 professional-grade hand tools for the industrial, contractor, and MRO markets. All Wright-manufactured products are U.S. made and carry lifetime guarantees against defects in workmanship. The company is committed to perfecting performance. Wright Tool is located at One Wright Drive, P.O. Box 512, Barberton, OH 44203. Phone: 800-321-2902. Fax: 800-543-2095. E-mail: [email protected]. Web site: www.wrighttool.com.