Wright Tool Now Offers Select KNIPEX® Hand Tools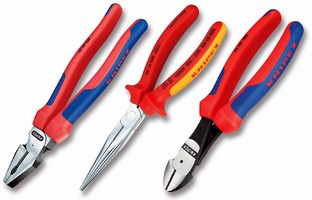 BARBERTON, OHIO - December 2006 - Adding to its extensive line of hand tools, Wright Tool now offers select KNIPEX® hand tools for electrical, construction and industrial applications.

The following KNIPEX tools are available through Wright Tool: water pump pliers, lineman's pliers, long-nose pliers, diagonal cutters, cable cutters, wire rope cutters and bolt cutters.

Detailed product information is available in a new four-color, 14-page Wright Tool KNIPEX brochure.

"Adding a trusted brand like KNIPEX to our product line further establishes Wright Tool as a leading source of professional quality hand tools," said Greg Helbling, vice president of sales, Wright Tool.

KNIPEX is the world's largest manufacturer of professional-grade pliers. All products are made in Germany and are uniquely designed to help professional users perform better on the job.

Wright Tool offers more than 3,600 tools for the industrial, contractor, and MRO markets. All Wright-manufactured products are U.S. made and carry lifetime guarantees against defects in workmanship. The company is located at One Wright Drive, P.O. Box 512, Barberton, OH 44203. Phone: 800-321-2902. Fax: 800-543-2095. E-mail: sales@wrighttool.com. Web site: www.wrighttool.com.


More from Thermal & Heating Equipment