Wrench Operated Collet Chuck features 6 in. diameter capacity.
Press Release Summary: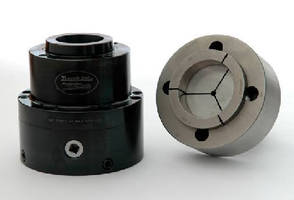 Operated via a t-handle chuck wrench, Model 16C features integral A2-5 nose to accommodate standard 16C collets up to 1,625 in., as well as bolt-on closing rings and ID mandrels. Product has flat back design and is concentrically adjustable for optimum accuracy. Collets are suited for use on hybrid CNC/manual teach lathes, and can also be used with variety of lathes, mills, grinders, indexers, and other rotating spindle equipment when used with Lexair mounting plates.
---
Original Press Release:

New Wrench Operated Collet Chuck has 6-in. Diameter Capacity, Handles 16C Step Collets and Bolt-on Closing Rings



Lexair's 16C Wrench Operated Collet Chuck can also be used with ID mandrels and standard 16C collets up to 1.625 in.



Lexington, KY, – Lexair's new model 16C wrench operated collet chuck has an integral A2-5 nose to accommodate standard 16C collets up to 1.625 in., as well as bolt-on closing rings and ID mandrels. The 6-inch diameter capacity chuck features a universal flat back design and is concentrically adjustable for optimum accuracy. The collets are ideal for use on hybrid CNC/manual teach lathes, and can also be used with a variety of lathes, mills, grinders, indexers, and other rotating spindle equipment when used with various mounting plates available from Lexair.



The model 16C collet is operated via a t-handle chuck wrench and does not require draw bars or cylinders. This is the latest in the company's line of Wrench Operated Collets including the 5C, 3J, and 22J, with workpiece capacities of 1.06 in., 1.75 in. and 2.25 in., respectively.



Lexair supplies precision-machined standard collets, master collets and pads, emergency collets, serrated collets, and uniquely configured collets by special order. Bar stops and parts ejectors are also available. For details, visit lexairinc.com or call 859-255-5001.



Contacts:

Steve Breslin

National Sales Manager

Lexair Inc.

859.255.5001

sbreslin@lexairinc.com