WPC v1.2, Qi-Certified Transmitter wirelessly delivers up to 15 W.
Press Release Summary: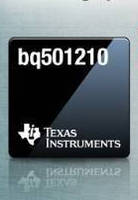 Supplied in 9 x 9 mm VQFN package, bq501210 enables connectorless models of industrial and medical equipment. Fixed-frequency solution, which enables 84% system efficiency with minimal thermal dissipation and EMI, supports multiple fast-charging protocols and can reduce end-application size by eliminate need for bulky wiring. Rail control output provides power to deliver full 15 W with inputs from 15–19 V and enables lower power operation, such as 5 W, with inputs as low as 5 V.
---
Original Press Release:

TI Announces the Only Qi-certified 15-W Wireless Power Transmitter



Industry's most efficient 15-W solution delivers high power and fast-charge wireless charging to industrial applications



DALLAS -- Texas Instruments (TI) (NASDAQ: TXN) today introduced the industry's first Wireless Power Consortium (WPC) v1.2 Qi-certified 15-W wireless power transmitter. The bq501210 enables 84 percent system efficiency with significantly less thermal dissipation than traditional wireless power devices. The transmitter supports multiple fast-charging protocols and offers an array of flexible and customizable features such as personal electronics, medical and space-constrained industrial applications. To learn more about the bq501210, visit www.ti.com/bq501210-pr.



Industrial end equipment such as electronic point-of-sale devices and handheld medical equipment reap the benefits of 15-W wireless power. This breakthrough in technology enables connectorless models and reduces overall end-application size by helping eliminate the need for bulky wiring.



Features and benefits of the bq501210

System efficiency at 84 percent: Fixed-frequency operation helps achieve the industry's highest 15-W efficiency as well as reducing electromagnetic interference (EMI).

Fast-charging capability: Fast-charge negotiation with mobile devices enables the transfer of up to 10 W to compatible receivers, including existing fast-charging devices on the market.

Wide-voltage aptitude: The High-Voltage Dedicated Charging Port (HVDCP) protocol negotiates with capable AC/DC wall adapters to adjust the input voltage. The rail control output provides power to deliver a full 15 W with inputs between 15 V and 19 V, and enables lower power operation, such as 5 W, with inputs as low as 5 V.



The new 15-W transmitter joins TI's proven portfolio of scalable wireless power solutions, which also includes 2.5-W, 5-W and 10-W products that provide designers with best-in-class thermal ratings and wide input-voltage and output power ranges, along with customizable sizes and power levels to fit a wide variety of wireless power needs.



Tools and support

Engineers can speed time to market and easily evaluate the new device's features and performance with the bq501210 evaluation module (EVM). The bq501210EVM-756 is available for US$149.



Availability and pricing

The bq501210 transmitter is shipping in volume production now and is available through the TI store and the company's authorized distribution network. The bq501210 comes in a 9-mm-by-9-mm very thin quad flat no-lead (VQFN) package and is priced at US$3.75 in 1,000-unit quantities.



Find out more about TI's wireless power solutions



Read the blog post, "What does wireless power mean for industrial applications?"

Check out TI's battery-management solutions.

Visit the TI E2E™ Community Battery Management forum to search for solutions, get help, share knowledge, and solve problems with fellow engineers and TI experts.



TI and wireless power

TI's wireless power-management products enable innovative, efficient wireless charging capabilities for mobile phones, tablets and other portable electronics, and wireless power charging transmitters ranging from stand-alone charging pads to those embedded in cars and furniture. The company offers the most extensive portfolio of power integrated circuits (ICs) that support the WPC's Qi standard and the AirFuel Alliance standard.



About Texas Instruments

Texas Instruments Incorporated (TI) is a global semiconductor design and manufacturing company that develops analog ICs and embedded processors. By employing the world's brightest minds, TI creates innovations that shape the future of technology. TI is helping more than 100,000 customers transform the future, today. Learn more at www.ti.com.



Trademarks

TI E2E is a registered trademark of Texas Instruments. All other trademarks belong to their respective owners.



CONTACT: Katie Worthy, Golin, 469-680-2580, kworthy@golin.com, Leah Harris, Texas Instruments, 214-567-0106, leah@ti.com

More from Fluid & Gas Flow Equipment