Worm Drive Saw cuts through all types of materials.
Press Release Summary: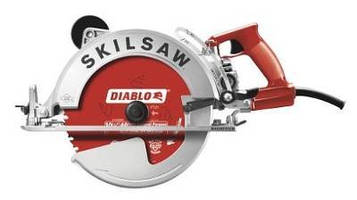 Equipped with Freud® Diablo® 40T carbide blade, SKILSAW® 10¼ in. Worm Drive Saw is powered by 15 A Dual-Field™ motor, which uses copper winding pattern for cooler operation. Saw operates at 4,600 rpm, providing 51° bevel capacity, 3 11/16 in. depth of cut at 90°, and 2¾ in. depth of cut at 45°. Weighing 16.45 lb, tool is constructed with aluminum motor housing and magnesium components.
---
Original Press Release:

SKILSAW Power Tools Expands Product Line with New SKILSAW 10-1/4 Inch Worm Drive



MT. PROSPECT, Ill. -- Designed and built with the legendary SKILSAW® heritage, the new SKILSAW® 10-1/4 inch Worm Drive Saw offers the same powerful performance and hardworking character that has made SKILSAW worm drives the jobsite standard. This is the only 10-1/4 inch worm drive saw designed to cut 4x material smoothly and cleanly in one pass. The 10-1/4 inch worm drive saw dubbed "Sawsquatch(TM)" also features the recently unveiled brand identity and logo. It marks the brand's second expansion of the professional line of tools focused on cutting.



"This is the next step in offering the best cutting solutions to professional tradesmen," said Angela Tedesco, product manager, circular saws. "From fence posts to framing to rip or cross cutting, a 10-1/4 inch worm drive will get the job done more efficiently with fewer and faster cuts. It powers through all types of materials and allows users to be more productive on the jobsite."



The SKILSAW 10-1/4 inch Worm Drive Saw, model SPT70WM-22 (SRP $449 USD), has the largest Dual-Field(TM) motor, which uses a unique copper winding pattern resulting in increased surface area that keeps the motor cooler. A cooler motor increases the durability of the saw. Its magnesium components decrease the weight while increasing durability, and the well-balanced design makes the saw easy to handle. The SKILSAW 10-1/4 inch Worm Drive includes a Freud® Diablo® 40T carbide blade, which pairs the best worm drive saw with the best blade for the best user experience right out of the box.



The SKILSAW 10-1/4 inch Worm Drive Saw has the same unmatched Stay True(TM) Guarantee that pledges users will get the legendary performance that they have come to expect. The professional has 180 days to test out the SKILSAW 10-1/4 inch Worm Drive and receive a full refund on the saw if not satisfied.



SKILSAW 10-1/4 Inch Worm Drive Specs:

--  15 Amp Dual-Field motor

--  4,600 RPM

--  51 degree Bevel Capacity

--  3-11/16 inch Depth of Cut at 90 degrees

--  2-3/4 inch Depth of Cut at 45 degrees

--  Magnesium Upper/Lower Guard and Foot Construction

--  Aluminum Motor Housing

--  8 foot Cord

--  16.45 Lbs.

--  40T Diablo® Carbide Blade



The SKILSAW 10-1/4 inch Worm Drive Saw will be available at retail and industrial distributors beginning in early 2015. For more information, visit www.skilsaw.com.



About SKILSAW Power Tools

SKILSAW Power Tools, a wholly owned subsidiary of the Robert Bosch Tool Corporation in Mount Prospect, Ill., is a leader in cutting technology serving the professional construction market under the SKILSAW brand and consumer do-it-yourself market under the SKIL brand. SKILSAW Power Tools was founded in 1924 with the invention of its flagship tool, the SKILSAW, the world's first portable circular saw. The invention of this saw also pioneered the use of worm drive gearing, Dual-Field(TM) motor and die-cast aluminum motor housing. Its successor, the SKILSAW Model 77 became the benchmark of portable circular saws changing the construction and home improvement industry forever.



About Robert Bosch Tool Corporation

Robert Bosch Tool Corporation in North America was formed in January 2003 when Robert Bosch GmbH combined its North American power tool, accessory and lawn and garden divisions into one organization. As a manufacturing pioneer with more than a century's worth of experience, the Bosch name has become synonymous with engineering excellence. With 18,000 employees worldwide and 3,500 in North America, the Robert Bosch Tool Corporation is a world leader in the design, manufacture and sale of power tools, rotary and oscillating tools, accessories, laser and optical leveling and range finding tools, and garden and watering equipment.



CONTACT:

Linda Mueller

SKILSAW Marketing

224.232.2991

Linda.Mueller@us.bosch.com



Web Site: http://www.skilsaw.com

More from Thermal & Heating Equipment