World of Asphalt 2007 New Product Pavilion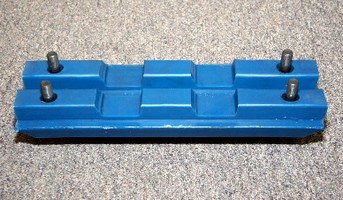 The World of Asphalt 2007 Show and Conference will feature an exhibit pavilion for companies wanting to highlight their "latest and greatest" on display. Show management is assisting exhibitors in the show "new product pavilion" by providing information to media for possible inclusion in their coverage of show exhibitors and products.

World of Asphalt 2007 will be held March 19-22, 2007 at the Georgia International Convention Center in Atlanta, Georgia, and is the leading educational and exhibits resource for asphalt, highway maintenance and traffic safety industry professionals.

Below is information received from BLS Enterprises - Booth 1301

Contact: Pat Monroe (414-298-4123, pmonroe@aem.org)

"TUFPADS® BLUES" NOW AVAILABLE

Contact: Barry L. Stoughton
Phone Toll-free, U.S./Canada: 800-307-0299
Local/International: 630-775-0900
Fax: 630-775-0903
Email: bls@tufpads.com
Website: www.tufpads.com

BLS Enterprises, Inc. introduces its new TUFPADS® Blues® track pad in the bolt-on style which can save 50% on replacement labor costs, 25% to 35% on replacement parts costs and now get 25% to 30+% longer wear from your track pads.

The new TUFPADS® Blues track pads have proven, after two years of field tests on asphalt milling machines from Florida to Wisconsin, to last 25% to 30+% longer than the premium black TUFPADS® track pads, which have become a standard in the industry over the past twenty years.

The new TUFPADS® Blues track pads are available in the original bonded to a triple grouser style and the new bolt-on to a triple grouser style. The BLS Poly Bolt-on TUFPADS® track pads bolt directly to the pre-drilled triple grouser allowing the asphalt paver or milling machine owner to save up to 50% in replacement labor costs since they are so easily removed and installed. The customer also saves 25% to 35% in replacement costs because he can reuse the steel grousers. Due to their success, the BLS Poly Bolt-on® track pads are now standard parts for all new Roadtec milling machines.

More from Controls & Controllers