Workstations remove spatter from gas nozzles.
Press Release Summary: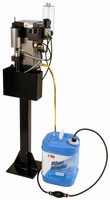 Torch Wizard(TM) Automatic Robotic Nozzle Cleaning Station helps maintain quality and productivity in MIG welding cell by removing spatter build-up in gas nozzles. It has dual blade reamers and is capable of simultaneous reaming and spraying. Designed for semi-automatic welding environment, Torch Wizard II(TM) reams and cleans nozzle bore, nozzle face, diffuser, and contact tip face in one motion. Both stations use Blue Magic(TM) or Blue Chill(TM) Anti-Spatter Solution.
---
Original Press Release:

Torch Wizard & Torch Wizard II Nozzle Cleaning Stations



Fast and Efficient Nozzle Cleaning Solutions from ELCo

The Torch Wizard(TM) and Torch Wizard II(TM) Nozzle Cleaning Stations from ELCo Enterprises, Inc. are designed to reduce cleaning cycle time and thoroughly clean gas nozzles using Blue Magic(TM) or Blue Chill(TM) Anti-Spatter Solution. The Torch Wizard Automatic Robotic Nozzle Cleaning Station assists in maintaining quality and productivity in your MIG welding cell by quickly and efficiently removing spatter build-up in the gas nozzle. It features dual blade reamers to provide effortless cleaning at a competitive price. Blue Magic(TM) Anti-Spatter is applied via the center of the cutter, allowing for reaming and spraying the nozzle simultaneously for shorter cleaning cycles and higher part production. If used with Blue Magic(TM), reamer blades are guaranteed for 6 months. The Torch Wizard(TM) is designed to last for years and comes with a 1-year guarantee.

The new Torch Wizard II(TM) Nozzle Cleaning Station is specially designed for a semi-automatic welding environment. In one swift motion it reams and cleans the nozzle bore, nozzle face, diffuser and contact tip face. With a cast aluminum housing and stainless steel panels & fasteners, the Torch Wizard II(TM) is built for everyday use, yet designed to last for years and it includes a 1-year guarantee. Blue Magic(TM) Anti-Spatter can be applied with an optional spray unit during the cleaning process, providing a protective coating for long nozzle cycle time. Single and double flute reamer blades are available for both models and all blades are guaranteed for 6 months if used with Blue Magic(TM). Both the Torch Wizard(TM) and Torch Wizard II(TM) are designed to accept all nozzle styles and sizes. Made in the U.S.A.

For more information, contact ELCo, Inc. 1-866-584-7281 or visit www.wire-wizard.com

More from Chemicals & Gases