Workstations let workers pull material as needed.
Press Release Summary: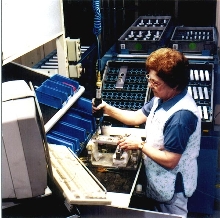 Use-point Manager Workstations, when combined with automated storage buffers such as company's unit load, mini load, and MSS II, can help cut cycle time and increase productivity. In manufacturing applications, workers use terminal to order material as needed, giving them control over workflow. For distribution applications, terminal provides workers with paperless pick list. Each workstation is designed for customer's application.
---
Original Press Release:
Eskay Use-Point Manager Workstations Improve Worker Ergonomics, Allow Workers To Pull Material As Needed For Manufacturing, Distribution

SALT LAKE CITY -Ideal for both manufacturing and distribution applications, ESKAY's use-point manager workstations provide an efficient, ergonomic solution for order picking as well as work-in-process (WIP) assemblies. Combined with automated storage buffers such as ESKAY's unit load, mini load, and MSS II, the use-point manager workstations can help to cut cycle time from 20-70 percent while increasing worker productivity 20-100 percent.

Each use-point manager workstation is specifically designed for the customer's application.

Conveyors deliver material for assembly or order picking at an ergonomic height, and any tools required are readily accessible. The workstation also includes a terminal connected to the inventory control system. In manufacturing applications, workers use the terminal to order material as needed, giving them control over their workflow. For distribution applications, the terminal provides workers with a paperless pick list. As an item is picked, its bar code is scanned to verify the correct item and quantity and to update the inventory control system.

"Use-point manager workstations ensure workers have the right material at the right height, at the right time," said Jim Neuner, ESKAY's Vice President, Sales. "Workers don't have to search for material, which improves productivity and cuts cycle time. What's more, the high-density storage buffers that deliver material to these workstations can save up to 80 percent of the floor space required for conventional storage."

Von Duprin, a manufacturer of industrial door latches in Indianapolis, uses a series of seven use-point manager workstations for final assembly. Component parts are stored in a single-aisle mini load buffer, then delivered by side-mounted conveyors as ordered by workers from their terminals. The system has helped workers increase productivity by 57 percent, with cycle time reduced 50-75 percent depending on model. Von Duprin has also reduced inventory by 33-66 percent, and the mini load/use-point manager workstation takes up half of the space previously used for the same processes.

At Northwest Airlines in Minneapolis, workers at use-point manager workstations pick from more than 60,000 SKUs to fill aircraft maintenance orders with virtually 100 percent accuracy.

Productivity has nearly doubled, with order-picking cycle time reduced 60 percent. Workers at O.C. Tanner in Salt Lake City pick orders for corporate awards at unit load and mini load workstations, then send the items to manufacturing cells where the items are customized.

Order cycle time has been cut 70 percent, while production per direct labor hour has increased 120 percent.

ESKAY Corporation, a Daifuku Company, designs, sells, installs, and supports a complete line of world-class logistics systems for automated material handling in factory, distribution, and cleanroom environments. ESKAY's full range of advanced-technology products for factory/distribution automation includes conveyors, sortation systems, transport vehicles, order- picking systems, storage buffers, and real-time warehouse management software (WMS). For cleanroom applications, ESKAY offers a variety of stockers, lifters, and interbay/intrabay transport systems for 200mm and advanced 300mm wafer fabs, along with Liquid Crystal Display (LCD), Flat Panel Display (FPD) and other cleanroom applications.

ESKAY is based in Salt Lake City, Utah, with regional offices and factory representatives located throughout the United States. It is ranked by Utah Business as one of the state's top 25 companies in revenue growth and is among Utah's top 100 fastest growing companies.

More from Thermal & Heating Equipment