Workstations deliver fast Intel Xeon processors.
Press Release Summary: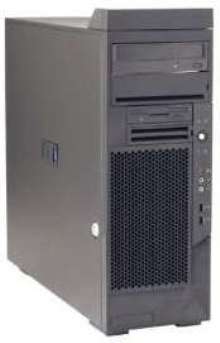 IntelliStation Z Pro models feature Xeon single or dual processors at 3.2 GHz, 512 KB L2 cache, and 1 MB L3 cache. They support up to 8 GB of PC2100 CL2.5 ECC DDR SDRAM DIMM memory. Accelerated graphics port Pro50 slot supports dual-head-compatible AGP adapters. Choice of optical devices includes CD-ROM, CD-RW, and CD-RW/DVD-ROM combination. Integrated Gigabit Ethernet, mirroring, and IEEE 1394 is available on selected models.
---
Original Press Release:

New IBM IntelliStation Z Pro Models Deliver Fast Intel Xeon Processors for Outstanding Performance


At a glance
New IntelliStation Z Pro models deliver scalable multiprocessor performance, the latest technologies, graphics, and outstanding service and support.
o Intel Xeon single or dual processors at 3.2 GHz
o Supports up to 8 GB2 of PC2100 CL2.5 ECC DDR SDRAM DIMM memory
o Graphics:
- NVIDIA Quadro4 280NVS for performance 2D
- NVIDIA Quadro4 980XGL or the NVIDIA Quadro FX 1000 for advanced 3D
- NVIDIA Quadro FX 3000 for extreme 3D
o HDDs:
- Integrated ATA-100 EIDE support
- Integrated Ultra320 support
- High-performance 10,000 rpm Ultra320 SCSI or 7,200 rpm ATA-100 EIDE HDDs with S.M.A.R.T.
o Choice of optical devices:
- CD-ROM
- CD-RW
- CD-RW/DVD-ROM Combination
- Multiburner
o Integrated Gigabit Ethernet, mirroring, and IEEE 1394 on selected models
o Rack-mountable tower system with six slots, six bays, three fans, and 425-watt power supply with power factor correction (PFC)
o Microsoft Windows XP Professional
o System hardware warranty - On-site3 three years, parts and labor

Overview
Take advantage of the multitasking, multithreaded application power of the latest IntelliStation® Z Pro models. New technologies and an outstanding system design help you achieve the next level of creativity and reduce project turnaround times. These Z Pro systems are ideal for digital content creation, finance, engineering, petroleum/chemical, life sciences, and high-end computing segments.

Solid performance
o SMP-capable Intel(TM) Xeon microprocessor at 3.2 GHz, Intel E7505 core-chipset, and 512 KB L2 cache and 1 MB L3 cache
o PC2100 CL2.5 double data rate (DDR) ECC SDRAM DIMM
o Dual Ultra320 SCSI and ATA-100 EIDE HDD subsystems

Choice of S.M.A.R.T. HDDs:
o 36.4 GB5 10,000 rpm Ultra320 SCSI
o 40 GB 7,200 rpm ATA-100 EIDE

Compelling graphics
Your choice of dual-head-capable graphics:
o NVIDIA Quadro4 280NVS
o NVIDIA Quadro4 980XGL
o NVIDIA Quadro FX 1000
o NVIDIA Quadro FX 3000

Outstanding support
The highly reliable IntelliStation Z Pro systems feature a three-year limited warranty on parts and on-site labor.

Note: For copies of the IBM Statement of Limited Warranty, contact your reseller or call IBM.

In the United States and Canada, call IBM at 800-IBM-SERV (426-7378). Telephone support may be subject to additional charges.

Planned availability date
November 3, 2003

More from Fluid & Gas Flow Equipment