Workhorse Group Inc. to Unveil W-15 Electric Pickup Concept Truck at ACT EXPO in May 2017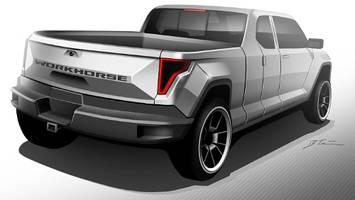 CINCINNATI, Nov. 22, 2016 - Workhorse Group Inc. (NASDAQ: WKHS), an original equipment manufacturer (OEM) of battery-electric vehicles, today announced that it will present a working concept truck of the W-15 electric pickup work truck with range extender for fleet usage, at the ACT EXPO Conference May 1-4, 2017 in Long Beach, CA.
Workhorse's goal is to make the W-15 the most economical, safest and lowest emissions pickup truck in America.
The new Workhorse W-15 light duty platform design is an extension of the E-Gen electric technology used in Workhorse medium-duty delivery trucks. With an expected 80 mile battery range using our proven battery packs, the Workhorse W-15 light duty design expects to provide economical, clean and powerful performance.
If needed, the on-board gasoline generator will then operate after battery power has been depleted, allowing fleet drivers unlimited range to complete the days' tasks.
Believed to be the first plug-in range-extended electric pickup truck built from the ground up by an OEM, the W-15's goal is to be the safest pickup truck on the market with its large frontal crumple zone and low center of gravity.
The Workhorse W-15 electric truck is expected to lower emissions. In developing the W-15, our goal is to deliver lower total cost of ownership (TCO) to fleets through lower fueling and maintenance costs.
Millions of pickup trucks are sold in the United States each year and pickup trucks are a leading vehicle platform of choice for fleets. The electric powered W-15 represents an opportunity to bring fuel savings and emissions reduction to the streets of America without sacrificing functionality.
Fleet operators and managers are invited to see the working concept electric pickup at ACT EXPO in Booth # 1435, May 1-4, 2017. On hand will be Workhorse engineers to answer questions and present the vehicle.
Fleet managers who would like additional information are directed to contact Jeff Esfeld at jeff.esfeld@workhorse.com or 206-228-5400.
About Workhorse Group Inc.
Workhorse Group, Inc. (NASDAQ: WKHS), is a U.S. - based original equipment manufacturer of medium duty EPA-approved battery-electric delivery vehicles and fully integrated truck-launched, FAA compliant unmanned aerial systems (UAS) delivery drones. Workhorse trucks have historically been sold to the largest fleets in the USA and Canada for last-mile delivery and related uses.
For additional information visit www.workhorse.com
Contact:
Mike Dektas
Workhorse Group Inc.
513-266-3590
SOURCE Workhorse Group Inc.
Web Site: http://www.workhorse.com
More from Communication Systems & Equipment