Workholding Systems have modular clamping components.
Press Release Summary: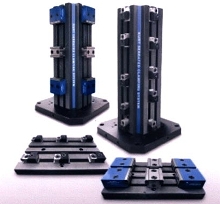 SeraLock(TM) 8 and 12 clamping station Tower and multiple station Pallet systems have precision serrated surfaces that match and align with serrated moveable jaw modules. No special equipment or skill is required to align clamping components. Accessories include Magnetic Workstop for positioning of parts; Koolant Shield that keeps coolant within confined area of vise to avoid coolant waste; and Magnetic Jaws that hold parallel for precise, easy part clamping.
---
Original Press Release:

New Kurt SeraLock(TM) Workholding Products Will Be Exhibited At IMTS 2002, McCormick Place Booth 2732


Minneapolis, Minnesota: Kurt will introduce new standard SeraLock(TM) Tower and Pallet workholding systems at IMTS 2002. An eight and twelve clamping station Tower and two different multiple station Pallet systems will be shown. All four high density systems are designed to provide precise repeatable part clamping with complete flexibility to quickly change the setup to meet changing part requirements.

SeraLock(TM) Towers And Pallets Are Versatile With Fast Set-Up Features -- Clamping Components Have Self-Aligning Design Features

Designed to provide modular, high precision, high density workholding, the SeraLock(TM) Towers and Pallets have precision serrated surfaces that match and align with serrated moveable jaw modules. Positioning and clamping parts for machining is fast and accurate. Serrations on the mating surfaces of the workholding components are precisely machined so that an exact match is created between the surfaces. No special equipment or skill is required to align the clamping components.

Both Tower and Pallet systems use the following common modular clamping components:
- 1.5" and 2" wide WedgeLock(TM) combination moveable and stationary jaws.
- 3.5" wide MoveLock(TM) two-piece modular vises.

Like the Towers and Pallets, these clamping components have serrated surfaces. When mounted to the Tower and Pallet surfaces, the opposing serrations come together and interlock, forming a rigid, level, and exactly repeatable interface. Matching the serrations automatically aligns the surfaces, making subsequent re-clampings highly repeatable.

Kurt Expanded Workholding Accessories Line To Be Featured At IMTS 2002

Kurt introduces a new Magnetic Workstop designed for fast and accurate positioning of parts. The workstop's powerful rare earth magnet attaches anywhere on the workholding setup without the need for connecting bolts or screws. The Magnetic Workstop can be removed just as quickly to clear spindle travel when necessary.

Kurt's Koolant Shield keeps coolant within a confined area of a vise to avoid coolant waste and to make cleanup easier. Transparent so the operator can see the workpiece easily, this device adjusts from 0 to 230° for tight setups and for use in a series on a multiple vise setup.

Kurt's Magnetic Jaws hold parallels for precise, easy part clamping. Supplied as a set with two jaw plates each embedded with a powerful rare earth magnet for holding the parallels in place, these jaws free hands for holding and clamping the workpiece.

Kurt's Adjustable Workstops are ideal for fast, accurate positioning of parts. Designed for use on all Kurt high density vises, the body clamp has a 2 inch adjustment and features a 3 inch long stop pin for fast and easy setups.

See all the latest Kurt workholding products at IMTS 2002 in Booth 2732, or call 1-800-328-2565 for FREE brochure, or download it from the Kurt website: www.kurt.com.

Write to Kurt Manufacturing Company, Industrial Products Division, 1325 Quincy Street NE, Minneapolis, Minnesota 55413. Fax: 612-623-3902. Email: workholding@kurt.com.


More from Electrical Equipment & Systems