Workholding Kits suit trunion fixture rotary tables.
Press Release Summary: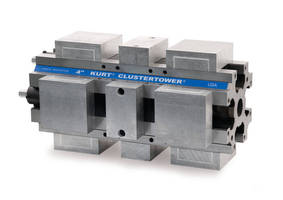 Including 4-sided column with 8 clamping stations, Workholding Kits provide repeatable precision clamping to 0.0002 in. Rotary Table Workholding stations deliver up to 5,870 lbs of clamping force at 60 ft-lb of torque, and features self-adjusting holding block of either front or back jaw for clamping same or dissimilar sized parts. Jaws index 180°. Units add fourth indexing axis to 3-axis vertical machining centers and allow for machining 3 sides of part in one clamping.
---
Original Press Release:

Kurt Introduces Workholding Kits for Trunion Fixture Rotary Tables - Holds Multiple Parts In Eight Clamping Stations



Minneapolis, Minnesota: Add clamping stations and increase vertical machining center productivity with Kurt's new workholding kits for trunion fixture rotary tables. These kits include a 4-sided column with 8 clamping stations that provide repeatable precision clamping to 0.0002 inch.

Using this Kurt workholding system adds a fourth indexing axis to 3-axis vertical machining centers and allows for machining three sides of a part in one clamping. Providing the eight clamping stations of a vise tower system, this new rotating workholding setup is designed to reduce part setup time while increasing machining speeds.

Available in sizes for integration into most popular indexer models, the Kurt Rotary Table Workholding stations deliver up to 5,870 lbs. of clamping force at 60 ft lbs of torque. The system features self-adjusting holding block of either front or back jaw for clamping the same or dissimilar sized parts. Jaws index 180°. To further enhance fast operation, an adjustable pre-load feature reduces handle turns for opening and closing clamping stations.

The four-sided column includes locating journal, end support assembly, face plate, locating pins, T-Nuts and screws for easy assembly into an indexer. Mounting plates are available as an option.

Like all Kurt vises, the new Rotary Indexing Workholding column is precision machined from 80,000 PSI ductile iron insuring strength, rigidity and long term accuracy. Jaw options include hard jaws, machinable aluminum, ductile iron and an aluminum fixture plate. These Kurt kits are available for most indexers.

"Kurt's new Rotary Indexing Workholding kits are a great new option for increasing vertical machining center productivity with minimal capital investment," reports Steve Kane, sales manager for Kurt Industrial Products. "By adding one of these setups, part productivity can be doubled, tripled or increased even more. Equipment operators really like their ease of operation too!"

See at: www.kurtworkholding.com

Email: [email protected]

Call in USA or Canada 1-877-226-7823 for FREE brochure. Outside USA and Canada, call 1-763-574-8309.

Or write to
Kurt Manufacturing Company,
Industrial Products Division,
9445 East River road NW,
Minneapolis, Minnesota 55433.
In USA, Fax 1-877-226-7828.
Outside USA, Fax 1-612-623-3902.

Fax: 1-877-226-7828

Outside U.S & Canada: 763-574-8309

Website: www.kurtworkholding.com

Email: [email protected]