Workholding Grippers are available in metric sizes.
Press Release Summary: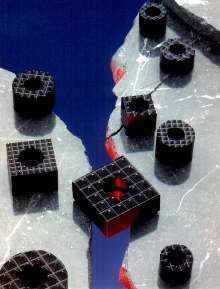 Counterbored workholding serrated grippers are available in metric sizes from 12 to 24 mm (round and square) as well as in sizes from ½ to 1 in. (square and round). Grippers, offered with coarse, fine, and extra fine tooth patters, are made of tool steel, heat treated to R
c
62. They mount utilizing socket head cap screw from serrated-face side and provide holding power with minimum wear on jaws, clamp fingers, and positioning points.
---
Original Press Release:

Fairlane Products Adds New Metric Sizes to Counterbore Gripper Line


Fairlane Products, Inc. (Fraser, MI) has announced the addition of new metric sizes to its line of counterbored workholding serrated grippers. The expanded line includes metric sizes from 12mm to 24mm round and square. The metric line complements the existing line that features sizes ranging from ½ to 1-inch, square and round. The entire counterbore gripper line includes grippers in various tooth patterns (coarse, fine, extra fine). They are available in high-speed tool steel, heat treated to Rc62. The metric counterbore grippers are part of a broad range of both metric and inch workholding and positioning components.

Counterbored grippers are mounted utilizing a socket head cap screw from the serrated-face side. This feature allows the versatility and options to help eliminate the need to completely tear down the fixture to replace the gripper-hence increased speed in fixture building and set up time for a wide variety of workholding applications. Fairlane Products' grippers penetrate and "grip" the workpiece for secure machining operations. They provide holding power with minimum wear on jaws, clamp fingers and positioning points.

Fairlane Products designs, manufactures and stocks a wide range of standard workholding and positioning components, all built to promote higher productivity through faster speeds and feeds. In addition, the company designs and manufactures serrated grippers, encompassing hardened high-speed tool steel or solid carbide diamond pattern grippers, low-profile edge grippers, single point and straight serration grippers. Other products include Swivots®-modular component workholding elements incorporating a serrated gripper, smooth pad, or a Delrin® rest pad that rotates and pivots for holding and positioning of irregular contour surfaces. The company is also a leading designer and manufacturer of rollers and bumpers used in materials handling, assembly and manufacturing applications.

Send inquiries to: Fairlane Products, Inc., 33792 Doreka, Fraser, MI 48026. Tel: 586.294.6100 Fax: 586.294.6822 Online: www.fairlaneprod.com


More from Electronic Components & Devices