Workflow Software meets needs of food/beverage operations.
Press Release Summary: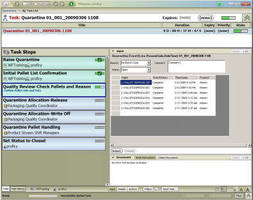 Providing electronic work instructions and exception management, Proficy® Workflow helps Food and Beverage/CPG manufacturers achieve consistent work processes and brand protection. Software provides operators with step-by-step instructions for each process, records their actions, and guides them through immediate corrective action when production problems arise. It can also automate and manage HACCP monitoring, integrating production work processes with real-time QA.
---
Original Press Release:

Proficy® Workflow for Food & Beverage / Consumer Packaged Goods Manufacturers Reduces Variation in Performance, Cost and Quality



GE Fanuc Intelligent Platforms' premier operations management solution provides more consistent work processes and better brand protection for clear sustainable advantage

Charlottesville, VA, August 11, 2009 GE Fanuc Intelligent Platforms, a unit of GE Enterprise Solutions, today announced that Proficy® Workflow for Food & Beverage / Consumer Packaged Goods is now available. By leveraging Electronic Work Instructions and Exception Management, this innovative software solution helps Food & Beverage / CPG manufacturers reduce the variation in performance, cost and quality - for more consistent work processes and better brand protection.

"The Proficy Workflow product provides a capability to connect multiple systems beyond basic technical integrations. This means harmonizing not just information and product specifications required for HACCP, but also the multiple methods and procedures that enforce food safety beyond production at the product supply network level," according to Simon Jacobson, AMR Research, in "GE Fanuc Intelligent Platforms Ready for Food Safety," Monday, July 27, 2009.

As a Work Process Management software system, Proficy Workflow enables power users and domain experts to digitize manual and automated processes with one tool - capturing process, traceability and quality data across systems to reduce errors, waste and delays. Users can manage by exception, orchestrate production and achieve event-based, data-driven results. Food & Beverage / CPG manufacturers can also track both manual and automated processes in real time, capturing data and creating a critical infrastructure for taking immediate corrective action.

"Every Food & Beverage / CPG manufacturing environment contains a mix of automated and manual interactions between equipment and personnel," said Greg Millinger, Product General Manager, Workflow / SOA for GE Fanuc Intelligent Platforms. "These production processes may not be fully documented and can include extra steps and resources. Therefore, they are difficult to track and trace - and difficult to adapt to changing business needs. Proficy Workflow helps make every operator an expert, improving production and manufacturing agility by connecting the equipment, people and systems across the plant and through the enterprise and supply chain."

Additionally, when detailed HACCP procedures and Standard Operating Procedures (SOPs) s are in place, it can be difficult to monitor compliance with them. New operators may not follow SOPs properly - or systems may not be in place that record both automated and manual data. For example, a HACCP procedure may require an operator to verify an oven temperature or, in another case, regulate oven chain speed if an internal food temperature is not high enough, but the records of the actions may be incomplete. With Proficy Workflow, operators are guided through the proper procedures, and their actions are recorded. The system steps operators through immediate Corrective Action when production problems arise.

In the event of a recall, Proficy Workflow for Food & Beverage / CPG enables the availability of historic production data on batches/lots, equipment set up, validated calibrations, operators and more. Furthermore, companies can minimize the impact of a recall and also the opportunities for having a recall in the first place by improving production processes.

With GE Fanuc's Proficy Workflow, food and beverage manufacturers can enable:

Electronic work instructions / Digitized SOPs: Instead of using a static piece of paper or a binder at their station, operators follow SOPs and work instructions through Proficy Workflow. They can accomplish their work with fewer errors, and the system records the information. Proficy Workflow electronically guides operators through step-by-step instructions. Food & Beverage / CPG companies can ensure production complies with defined processes - with validated entry - capturing data for analysis and historical records. The system can analyze in real time and document the operator, shift, batch, equipment settings and validated calibrations, equipment serial numbers, product conditions, and more. This use case decreases costs by reducing errors and waste, and increases compliance by enforcing SOPs.

Quality hold: non-conformance, rework and quarantine: Automatically trigger non-conformance workflows to better manage - and take steps to prevent and minimize - quarantines and recalls. The system guides operators through assignments, inventories, supplemental testing, inspecting, rework and re-dispositioning. Food & Beverage / CPG manufacturers can bracket product batches/lots suspected of sharing a quality problem - and manage and track the process of testing and assessing bracketed product for conformance, and then releasing, splitting, rejecting or reworking. This use case closes the loop on non-conformance, reducing costs of product waste and decreasing shipping delays by driving non-conformance to fastest resolution.

HACCP monitoring procedures: Automate and manage HACCP monitoring, integrating production work processes with real-time QA. Companies can electronically monitor and record production work processes and compliance, taking immediate corrective action when compliance issues occur. Teams can ensure that operators are diligent about HACCP procedures and respond faster to HACCP problems.

Alarm management, corrective action and exception management: React immediately to alarms and process exceptions with best practice corrective action and exception management. This use case allows companies to automatically and dynamically respond to production problems and events, monitoring alarms and out-of-spec conditions from multiple systems. Users can send tasks to people or systems to correct problems in real time and escalate as needed. Companies can minimize nuisance alarms and ensure proper action on critical alarms. Proficy Workflow can improve the performance of every operator - and decrease costs by reducing waste and labor, downtime through faster response, and risk through automatic remediation or escalation.

"As food and beverage companies are expected to deliver more every day with tighter margins, having deep knowledge about what is occurring on the plant floor is more important than ever," Millinger concluded. "Work Process Management is imperative to avoiding and minimizing quality issues that can result in disastrous product recalls and harm to brand equity."

For more information, www.gefanuc.com/workflow.

About GE Enterprise Solutions

GE Enterprise Solutions elevates customers' productivity and profitability with integrated solutions using sensors and non-destructive testing; security and life safety technologies; power system protection and control; and plant automation and embedded computing systems. Enterprise Solutions' high-tech, high-growth businesses include Sensing & Inspection Technologies, Security, Digital Energy, and GE Fanuc Intelligent Platforms. The business has 17,000 problem-solving employees in more than 60 countries around the world.

About GE Fanuc Intelligent Platforms

GE Fanuc Intelligent Platforms, a joint venture between General Electric Company (NYSE: GE) and FANUC LTD of Japan, is an experienced high-performance technology company and a global provider of hardware, software, services, and expertise in automation and embedded computing. We offer a unique foundation of agile, advanced and ultra-reliable technology that provides customers a sustainable advantage in the industries they serve, including energy, water, consumer packaged goods, government & defense, and telecommunications. GE Fanuc Intelligent Platforms is a worldwide company headquartered in Charlottesville, VA and is part of GE Enterprise Solutions. For more information, visit www.gefanuc.com.