Work Station mounts cutting tools into holders.
Press Release Summary: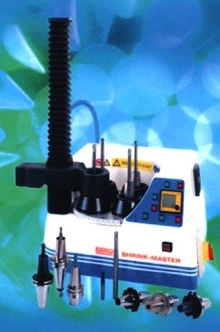 Shrink Master Shrink-Fit Work Station is suitable for shrinking all cutting tools with h6 shank tolerance. Shrinking time is less than 20 sec. Rotary table allows for continuous work on up to 4 tool holders. Shrink-S cycle enables shrinking and release of high speed steel tools. Inductor coil changes are eliminated when shrinking holders up to 1¾ in. Shrink-Master is universally adaptable for all taper designs in sizes up to ISO/ANSI-50 or HSK100.
---
Original Press Release:

Shrink-Fit Work Station Offers Unique, Affordable Features That Enhance Machining Productivity, Safety


NORTHBOROUGH, MA (April 28, 2002) - The Emuge Induction Shrink-Fit Work Station efficiently mounts cutting tools into holders with two to four times more force and can provide a 50% increase in tool life when compared to conventional tool holding techniques. The "Shrink Master", introduced in the past year, is easy to operate and is suitable for shrinking all cutting tools with an h6 shank tolerance. Shrinking time is less than 20 seconds.

The Shrink-Master provides extremely accurate concentricity between tool and holder, as well as 100% radial clamping along the tools entire shaft. The result: increased rigidity; the ability to hold tighter tolerances and achieve finer surface finishes; and ultimately, to produce more faithful part geometry.

Unlike competitive models, the Shrink Master's rotary table allows for continuous work on up to four tool holders (while one holder is safely and evenly heated, three others can be cooled ). In addition to increased productivity, this feature eliminates the danger of handling hot tools.

Another original feature is the "Shrink-S" cycle, which enables the shrinking and release of high speed steel tools. This process is possible when used with specially designed holders.

Other unique features include the elimination of time consuming inductor coil changes when shrinking all holders with nose diameters up to 1¾ inches. For larger holders, an optional hand-held, remote-activated inductor coil provides not only convenient, "away from base" operation at a distance of up to nine feet, but will also accept holders with nose diameters up to 2¼ inches. The Shrink-Master is universally adaptable for all taper designs in sizes up to ISO/ANSI-50 or HSK100.

The Shrink Master is also affordable. According to Mr. Peter Matysiak, President of Emuge, "At only $ 7,500 (U.S.), the Shrink Master is clearly the value leader of it's class, especially when considering all the unique and performance enhancing features."

Shrink Master is furnished with CSA certification that meets or exceeds all North American power equipment safety requirements, and performs on a three-phase power supply.

Emuge, part of the 1,000+ employee German parent company Emuge-Werk Richard Glimpel KG, has been the product technology and performance leader in their field for over 75 years. The company manufactures an exhaustive line of taps, end mills, thread mills, holders and accessories, over 100,000 items sold through distributors worldwide.

North American Headquarters of Emuge are located in Northborough MA USA, where applications solutions are managed and over 10,000 types of cutting tools and accessories are stocked for prompt shipment. Emuge also offers end user technical support through a network of in-the-field engineers with extensive tooling experience.

For more information on Shrink-Master or the Emuge Corporation, contact Emuge at 104 Otis Street, Northborough MA 01532, Tel. 800-323-3013, Fax (508) 393-1310 or visit www.emuge.com

More from Electronic Components & Devices