Work Platforms are designed for use with fork lift.
Press Release Summary: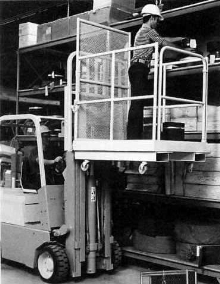 Workmaster and Stockmaster products enable users to safely utilize fork lifts as work platforms. Integral pockets receive forks, and chain is used to secure product. Installed in seconds, products are rated for capacities up to 1,000 lb. Stockmaster can carry pallet and personnel simultaneously. Optional accessories include sliding tool tray, horizontal or vertical tube caddies, overhead guard, and casters.
---
Original Press Release:

Convert Your Fork Lift to a Workplatform


Available from Equipment Company of America (ECOA) / Solve Needs International

White Lake, MI - 2/21/05 - Equipment Company of America (ECOA) / Solve Needs International offers our Workmaster and Stockmaster work platforms, which allow you to safely use your Fork Lift as a Work Platform. Features pockets to receive the forks, and chain to secure. Allows you to convert from forklift to work platform in seconds. Our Stockmaster allows you to carry a pallet and personnel simultaneously, perfect for picking stock.

Capacities of up to 1000 lbs. Optional accessories such as a Sliding Tool Tray, Horizontal Tube Caddy, Vertical Tube Caddy, Overhead Guard, and Casters help you maximize the utility of our Work Platforms.

Equipment Company of America / Solve Needs International has been solving business's material handling and storage needs since 1962/

Company Information:

Name: Equipment Company of America (ECOA) / Solve Needs International

Address: P.O. Box 600

City: Union Lake

State: MI

ZIP: 49093

Country: USA

Phone: 248-698-3200

FAX: 248-698-3070

For more information, for general public:

Donald Burski, 248-698-3200, sales@solveneeds.com

For more information on your product:

http://www.solveneeds.com/

More from Optics & Photonics