Work Area LED String Light enhances industrial environments.
Press Release Summary: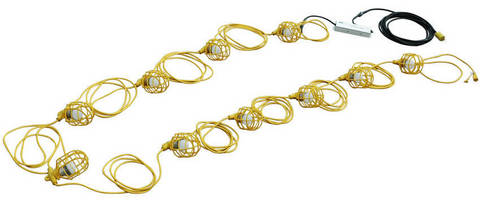 Built to survive industrial work environments, WAL-SL-10-LED-25-TXF features 10 LED lamps connected in series 10 ft apart along 100 ft of 14/2 SJTW cable. Each 10 W LED lamp, resistant to impacts and vibrations, screws into molded E26 lamp socket, will not cause accidental burns if touched, and is enclosed in plastic guard cage. Product runs on 12/24 Vdc, and included inline transformer allows connection to 120–277 Vac outlets.
---
Original Press Release:

New LED String Light System from Larson Electronics Provides High Performance Illumination



Larson Electronics has released a new low voltage string light that provides better performance and reliability than standard incandescent string lights. The WAL-SL-10-LED-25-TXF Work Area LED String Light produces higher light output with cooler operation and can withstand the demanding conditions of tough industrial work environments.



The Larson Electronics WAL-SL-10-LED-25-TXF work area LED string light is a low voltage string lighting system that provides operators with higher performance than comparable incandescent string light designs. Unlike inefficient incandescent string lights which feature 100 watt incandescent bulbs, this LED string light  uses less power, runs cooler, produces more and higher quality light, and can withstand tough conditions ordinary string lights can't. This string lighting system features ten LED lamps connected in series along 100 feet of tough 14/2 SJTW cable. Each 10 watt LED lamp produces higher output than a 100 watt incandescent bulb while using 90% less power. These LED lights are resistant to impacts and vibrations and run only slightly warm and will not cause accidental burns if touched. Each lamp screws into a molded E26 lamp socket and is enclosed in a plastic guard cage, and there is ten feet of cable between each lamp for even coverage. This string light is runs on low voltage 12/24 VDC current, and includes an inline transformer which allows connecting the unit to standard 120-277 VAC outlets. The WAL-SL-10-LED-25-TXF is ideal for operators who need to illuminate large areas but want higher quality illumination that won't be subject to frequent bulb failures from the rough handling and tough working conditions common in industrial and commercial work environments.



"The WAL-SL-10-LED-25-TXF string light system offers operators an affordable and durable low voltage temporary lighting system without sacrificing work site illumination," said Robert Bresnahan with Larson Electronics Magnalight.com.



Larson Electronics carries an extensive line of LED lights, LED work lights, light towers, portable work lights and industrial grade LED area lights. You can view Larson Electronics' entire lighting inventory visiting them on the web at Magnalight.com. You can also call 1-800-369-6671 to learn more or call 1-214-616-6180 for international inquires.



Youtube: http://www.youtube.com/user/magnalightdotcom

Facebook: https://www.facebook.com/LarsonElectronicsMagnalight

Twitter: https://twitter.com/LEMagnalight

Pinterest: http://pinterest.com/lemagnalight/

Related