Woodworking Blades deliver clean, quiet cuts.
Press Release Summary: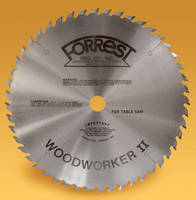 Suited for use with most table, circular, and panel saws, 12 in. dia Woodworker II blades are available with 1 or 5/8 in. bore or can be customized to end-user specifications. Products are engineered from corrosion-resistant C-4 micrograin carbide and have 1/8 in. kerf. Suited for making clean cross cuts, 48-tooth design facilitates feeding, and sharp teeth points have 25° bevel. Hand-straightened for perfect flatness, blades have side runout of ±.001 in.
---
Original Press Release:

Forrest Manufacturing Announces Two Additions to Its Line of High-Performance 48-Tooth Woodworker II Blades



The new 12"-diameter blades provide smooth, quiet cuts and are ideal for most table, circular, and panel saws. They are available with either a 1" or 5/8" bore or can be customized to the customer's specifications.

CLIFTON, New Jersey-Forrest Manufacturing has expanded its high-performance, 48-tooth Woodworker II line by adding two 12"-diameter blades. Like the other blades in this popular series, these latest additions deliver quieter, smoother cuts with less vibration and have excellent cross-cutting capabilities. As a result, Forrest's 48-tooth Woodworker II series continues to be the preferred choice of a growing number of professional craftsmen and serious hobbyists.

In discussing the two 12"-diameter blades, the company's Vice President, Jay Forrest, said, "Both of these products have a 1/8" kerf. Customers can choose either a 1" bore or a 5/8" bore. If they prefer a different bore, we'll gladly customize the blade to their specification for a modest charge."

Forrest already had two other blades in its 48-tooth Woodworker II series. One is its standard 10"-diameter blade with a 5/8" bore and 1/8" kerf; the other is its thin kerf version with a 10"-diameter, 5/8" bore, and a 3/32" kerf. Both the new 12"-diameter blades and these 10"-diameter blades can be used on practically all popular brands of table, circular, and panel saws. These include such well-known names as Altendorf, Felder, Inca, Martins, Rockwell, SCM, Sears, and Striebig.

Clean, Quiet Cross-Cutting
Forrest's series of 48-tooth Woodworker II blades are ideal for making top-quality cross cuts. Vice President Forrest explains, "Most blades have a difficult time making super-clean cross cuts. That's because you often get splintering or a fuzzy cut when running a blade perpendicular to the fibers in the wood grain. However, our 48-tooth blades-including the new 12"-diameter blades-have 8 more teeth than our original Woodworker II series. This results in an easier feed. Also, the points of the teeth have a 25-degree bevel, rather than a 15-degree bevel. Sharper points allow the blades to slice cleanly through the wood fibers as they cut across the grain. This makes the operation quieter and produces less vibration. So these blades are an excellent choice for those desiring a high-performance, all-purpose product. The new 12" blades, with their wider diameters, are especially suitable for craftsmen who need to make deeper cuts on thicker stock."

Both of the 12"-diameter Woodworker II 48-tooth blades list for $149.00. The catalog number for the 1" bore is WW12487125; the number for the 5/8" bore is WW12487125A.

Engineered for Top Performance
Like all Forrest blades, the 48-tooth Woodworker II Series is precision-engineered from corrosion-resistant, super-strong C-4 micrograin carbide. As a result, they have an up to 300 percent longer life between sharpenings, compared to other carbide blades. Forrest blades are all hand straightened to ensure perfect flatness. They also have exceptional perimeter concentricity and side runout of +/- .001. To help assure continued performance, Forrest offers state-of-the-art factory sharpening at very reasonable costs. And customers have the added confidence of knowing their Forrest blades come with a 30-day, money-back guarantee.

Forrest Manufacturing: A Respected Name for 65 Years
Woodworkers and serious hobbyists have been relying on Forrest's quality blades since the company was founded in 1946. Forrest is a family-owned business and dedicated to providing the very best in knowledgeable, courteous service. All Forrest blades are made in the United States by craftsmen committed to the highest standards of workmanship. Among Forrest's custom and specialty blades are its Signature Line Chop Master, Dado King, Duraline, Concave Face, and nonferrous cutting blades.

Forrest blades are available direct from the factory, as well as from fine-quality dealers, retailers, and catalogs. For more information, call 1-800-733-7111 or visit www.ForrestBlades.com.

More from Architectural & Civil Engineering Products