Woodworking Blade creates quality mortise, tenon joints.
Press Release Summary: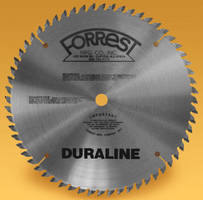 Intended for use by advanced woodworkers, Duraline Tenoning Blade facilitates and accelerates production of clean, reliable mortise and tenon joints. Tenon can be created in 2 steps, and perimeter concentricity and side runout are rated at ±.001. Suited for use with most all types of tenoning jigs, product is engineered from corrosion-resistant C-4 micrograin carbide and has 60 teeth as well as No. 6 grind with alternate top bevel/raker.
---
Original Press Release:

New Forrest Blade is Ideal for Creating Quality Mortise & Tenon Joints



The Latest Addition to the Duraline Line of Blades Delivers Repeatably Accurate Cuts, Stronger Joints, and Excellent Splinter Control-All in Two, Easy Steps

CLIFTON, New Jersey-Forrest Manufacturing has introduced a new blade that makes it faster and easier for advanced woodworkers to produce clean, reliable mortise and tenon joints. In making the announcement, Jim Forrest, the company's president, said, "We created our new Duraline Tenoning Blade to help serious craftsmen produce strong, dependable tenons for chairs, tables, and cabinets, as well as for cutting bowl segments and other applications. To the best of our knowledge, this blade is unique in our industry. It was developed in response to requests from furniture makers and other customers. I'm pleased to report that initial feedback to the introduction of this blade has been very positive."

Easy, Two-Step Process
Unlike dados and other blades that require many cuts, Forrest's Duraline Tenoning Blade (Catalog #DU10606125) enables woodworkers to create a tenon in two easy steps. Step one is to make horizontal cross-cuts to create splinter-free scoring marks all around. Step two is to mount the piece on a tenoning jig and then make vertical cheek cuts to remove excess wood.

The Forrest Duraline Tenoning Blade delivers repeatably accurate results and is ideal for use with most all types of tenoning jigs. It has 60 teeth and a #6 grind with an alternate top bevel/raker. The blade features a heavy plate with a 110/1000" thickness to help assure the accurate cheek cuts essential to optimal joint strength. It also has a 10º hook that makes it easier to feed into the saw.

Like other Forrest blades, the Duraline Tenoning Blade is hand-straightened to ensure perfect flatness and has exceptional perimeter concentricity and side runout of +/- .001. It is also precision-engineered from corrosion-resistant, super-strong C-4 micrograin carbide. As a result, it has up to a 300 percent longer life between sharpenings than other carbide blades. This blade can also be used to make compound miter cuts on table saws. Its list price is $177.00.

Quality Blades Made in the U.S.A.
Forrest Manufacturing was founded in 1946. Over the past 64 years, Forrest blades have become the preferred choice of craftsmen and serious hobbyists who appreciate superior quality. Forrest continues to be a family-owned business committed to exceptional workmanship and outstanding customer service. The company's blades are all made in the United States and backed by a 30-day, money-back guarantee.

Forrest produces a wide variety of custom and specialty blades in addition to the Duraline blades. These include its Signature Line Chop Master, Dado King, Shear Face, and nonferrous cutting blades. The company also provides state-of-the-art factory sharpening at a reasonable cost.

Forrest blades can be ordered direct from the factory, as well as from fine-quality dealers, retailers, and catalogs. For additional information, call 1-800-733-7111 or visit www.ForrestBlades.com.

More from Electrical Equipment & Systems