Woodland Plastics Boosts Low-Tonnage Thermoset Molding With New Machine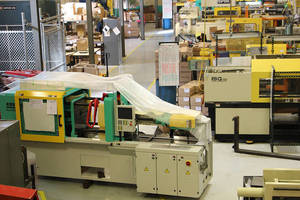 Woodland Plastics Corporation, a custom thermoset molder in Addison, Ill., recently installed a new 88-ton Arburg ALLROUNDER thermoset molding machine in February, 2016.  The new Arburg machine provides injection and injection-compression molding of thermoset materials, including phenolics and bulk molding compounds (BMCs). 



By investing in the 88-ton thermoset molding machine, Woodland Plastics is able to support company growth with increased capacity in low-tonnage thermoset molding.  Since being installed, the new machine has improved molding efficiency by lowering cycle times and reducing machine maintenance costs.  Additionally the new machine provides greater processing control through a touch-screen monitor, and is connected to Woodland Plastics' ERP software system for real-time processing and scheduling data.



The 88-ton Arburg machine is the second new molding machine installed within the past year, with the previous being a 350-ton Arburg ALLROUNDER thermoset molding machine installed early in 2015. 

More from Machinery & Machining Tools