Wood Repair System helps increase manufacturing yield.
Press Release Summary: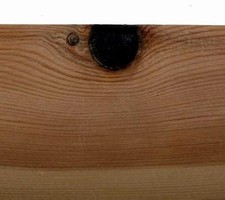 KNOT-TEC(TM) System lets manufacturers of such products as windows, doors, and furniture use entire board, rather than just portions before or knot or defect. Combining TEC(TM) 250 hot melt adhesive applicator and TECBOND(TM) 7718/12 polyamide hot melt glue sticks, system repairs knots and fills wooden surfaces so that they are smooth and unnoticeable prior to painting/finishing. Solution performs repairs in seconds, and any surplus glue can be removed with chisel or cutting tool.
---
Original Press Release:

Power Adhesives KNOT-TEC(TM) System Repairs Knots and Damaged Wood Surfaces to Increase Yield



CHARLOTTE, N.C. --- Power Adhesives Ltd. has introduced an advanced wood repair system that lets manufacturers use an entire board rather than cut it before or a knot or defect to eliminate waste, increase yield and maximize use of the raw material.

The unique KNOT-TEC(TM) System from Power Adhesives is the most cost effective wood repair system on the market today according to the company. It allows manufacturers of such products as windows, doors and furniture repair knots and fill wooden surfaces so that it is smooth and hardly noticeable before painting or finishing. Formerly, the faulty material was cut from the board and not used by the manufacturer.

The Powder Adhesives system combines the company's TEC(TM) 250 hot melt adhesive applicator and TECBOND(TM) 7718/12 polyamide hot melt glue sticks to create a fast, easy-to-use system. Knots and surface defects are repaired in seconds. Application is quick and easy with no training required.

To use, a manufacturer simply fills the wood or knot with the molten adhesive and allows it to dry. Any surplus glue is then easily removed with a chisel or a cutting tool. After removal, the wood surface can be treated or painted as normal.

Product Detailed
The TECBOND(TM) 7718/12 polyamide hot melt comes in four colors to match most wood types. Colors available include amber, beige, black or cola. The ½ in. diameter glue sticks are specifically formulated for use on wood exposed to high and low temperature changes. Ten adhesive glue sticks come in each resealable foil pack and there are 10 packs to a carton.

Compact and lightweight, the TEC(TM) 250 is the ideal glue gun for dispensing the TECBOND(TM) 7718 glue sticks. Comfortable to handle and easy to use with a full-hand lever trigger, it is the perfect glue gun for all hand sizes.

The efficient heater housing allows the glue gun to reach operating temperature of 380º F in only five minutes. An optional freestanding metal stand is available with the TEC(TM) 250 gun for convenience.

"The KNOT-TEC(TM) System makes use of formerly discarded wood in the manufacturing process that was unattractive and could not be used in the final product," noted Lee Stegall, Director of Sales for Power Adhesives. "The KNOT-TEC(TM) system allows the manufacturer to use more board feet of product for efficiency and increased productivity. It also impacts the environment since product waste is minimized and lets the manufacturer maximize the use of available inventory."

About Power Adhesives
A United Kingdom based advanced technology production company, Power Adhesives has become the hallmark of TEC(TM) products. Power Adhesives products are sold under the TEC(TM) and TECBOND(TM) brand names. The company uses only the highest quality materials in the manufacture of all its products.

For more information on the KNOT-TEC(TM) System or other Power Adhesives products, email Lee Stegall at l.stegall@poweradhesives.com, call 704-334-2425 or visit www.poweradhesives.com.

Related