Wood Repair Kit helps manufacturers minimize waste.
Press Release Summary: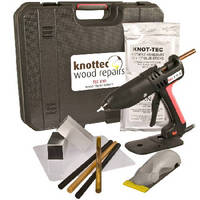 With KNOT-TEC(TM) Wood Repair Starter Kit, manufacturers have tools needed to begin repairing knots and filling in wooden surfaces. Components are non-flammable, use no harsh solvents, and can be safely used on windows, doors, furniture, wood floors, and cabinets. Supplied in black molded toolbox, kit includes hot melt adhesive glue gun, Mouseplane® for flush trimming of glue lines and wood, silicon drip mat, gun stand, 2 heat sink blocks, 12 TECBOND(TM) 10-in. glue sticks, and instructions.
---
Original Press Release:

Upgraded Wood Repair Starter Kit from Power Adhesives Lets Manufacturers Reduce Waste and Lower Cost



CHARLOTTE, N.C. --- An improved eco-friendly wood repair system that helps manufacturers repair knots, defects and other damaged wood surfaces is now available from Power Adhesives.

The KNOT-TEC(TM) Wood Repair Starter Kit gives a manufacturer all the tools needed to begin repairing knots and filling in wooden surfaces to help lower operating costs and reduce environmental waste. The result is wood surfaces that are smooth with blemishes hardly noticeable before painting or finishing.

According to Power Adhesives, the KNOT-TEC(TM) wood repair system is the most cost efficient and safest system on the market today. Components in the starter kit are non-flammable, use no harsh solvents and can be safely used on windows, doors, furniture, wood floors, cabinets and millwork applications.

KNOT-TEC Wood Repair Kit Described

The KNOT-TEC(TM) Wood Repair Starter Kit comes in a convenient black molded compartmentalized toolbox consisting of:


One of two high temperature hot melt adhesive glue guns of the
user's choice.

A new Power Adhesive Mouseplane® for flush trimming of glue lines and wood.

A TEC MAT silicon drip mat for use underneath the gun to help
keep the surface clean and protected.

A gun stand to store the hot melt adhesive guns.

Two aluminum heat sink blocks to compact and cool the repair site.

A variety pack of 12 TECBOND(TM) 10-in. (250 mm) long glue sticks (2 of each of the six colors, amber, black, cola, light brown, beige and white).

An instructional manual.

Glue Guns Described

Hot melt glue guns available in the KNOT-TEC(TM) starter kit include the TEC 250 or the TEC 810-12.

TEC(TM) 250

Comfortable to handle and easy to use with a full-hand lever trigger, the high temperature TEC(TM) 250 hot melt is a perfect fit for all hand sizes.
It's a self-regulating 40-Watt glue gun with a power on light for industrial use. The efficient heater housing allows the glue gun to reach operating temperature of 380ºF (193.3oC) in only five minutes. Melt rate is l-½ lbs/hr (700g/hr).

TEC(TM) 810-12

In contrast, the TEC(TM) 810-12 is a medium-sized 250-Watt applicator with a full hand trigger for easy use, comfort and performance. The versatile TEC(TM) 810-12 is designed for continuous use. The gun includes an illuminated on-off switch and has a melt rate of 4-½ lbs (2 kg/hr). Warm up time is 2-3 minutes and the melt rate 4.4 lbs/hr (2,000g/hr).

Besides the TEC(TM) 250 and TEC(TM) 810-12, Power Adhesives offers a broad line of over 50 different types of hot melt glue guns.

Variety of Glue Sticks Colors Available

The TECBOND(TM) 7718/12 and 7713/12 polyamide hot melt glue sticks are available in six different colors - amber, beige, black, cola, white and light brown - to match most wood types. The ½ in. (12.7 mm) diameter round glue sticks is specifically formulated for use on wood repairs. A total of 12 sticks, two of each color, come in the starter kit. Extra glue can be reordered in the desired color or colors and are available in 10-stick packs or in 22-lb (10 kg) bulk packages.

Apply Heat Sink Blocks Over the Repair Until Dry

After filling the wood or knot hole with the molten adhesive, one of the heat sink blocks are placed over the area being repaired. The heat sink block pushes the adhesive into the area being filled and forms a flat smooth finish on the board surface. Additionally, the aluminum block rapidly transfers the heat from the adhesive allowing it to set almost instantly. Any surplus glue is then easily removed with the new Mouseplain® flush trimming knife that is included in the kit. After removal, the wood surface can be treated or painted as normal.

About Power Adhesives

A United Kingdom based advanced technology production company formed over 36 years ago, Power Adhesives has become the hallmark of TEC(TM) products. Power Adhesives products are sold under the TEC(TM) and TECBOND(TM) brand names. The company uses only the highest quality materials in the manufacture of all its products.

For more information on hot melt systems, email Lee Stegall at l.stegall@poweradhesives.com, call 704-334-2425 or visit www.poweradhesives.com.