Architectural / Structural Columns
Wood Columns add ornamentation to fixtures.
Press Release Summary: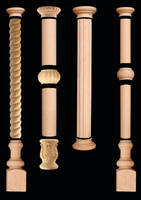 When used in conjunction with complementary design elements comprising caps and bases, center spindles, and end blocks, Design-A-Column enables mixing and matching of components within system to create custom traditional and contemporary ornamentation for cabinets, kitchen islands, and furniture. Options comprise decorative hard maple and cherry plain, fluted, reeded, weave, and rope design 8 ft half round columns that can be installed using common woodworking tools and techniques.
---
Original Press Release:

Outwater Introduces its Updated Design-A-Column Wood Ornamentation for Cabinets, Kitchen Islands & Furniture



Bogota, NJ (www.outwater.com) — Having possibly originated as an ingenious idea borrowed from right out of a page of history, whereby the ancient Greeks and Romans constructed whole, finished Columns at the construction site by stacking previously manufactured modular segments, Outwater [Outwater Plastics Industries, Inc. + Architectural Products by Outwater, LLC] has discovered the future by looking into the past with the introduction of its updated Design-A-Column, a series of decorative hard maple and cherry plain, fluted, reeded, weave and rope design 8-ft. half round columns, which when used in conjunction with the line's assortment of available complementary design elements comprising caps & bases, center spindles and end blocks, enables one to mix and match the components within the system to create custom traditional and contemporary ornamentation for cabinets, kitchen islands and furniture.



Easy to install using common woodworking tools and techniques, Outwater's Design-A-Column comes pre-sanded and is ready to be painted, stained or faux finished immediately upon installation.  Outwater's Design-A-Column can be shipped via UPS.



For further product information, please click the enclosed links:



Link #1: Design-A-Column Series



http://www.outwatercatalogs.com/lg_display.cfm/catalog/Master_Catalog_Vol_42?useSearchForm=single&page=468



Link #2: Design-A-Column Half Rounds



http://www.outwatercatalogs.com/lg_display.cfm/catalog/Master_Catalog_Vol_42?useSearchForm=single&page=468



Link #3: Design-A-Column Caps & Bases



http://www.outwatercatalogs.com/lg_display.cfm/catalog/Master_Catalog_Vol_42?useSearchForm=single&page=469



Link #4: Design-A-Column Center Spindles



http://www.outwatercatalogs.com/lg_display.cfm/catalog/Master_Catalog_Vol_42?useSearchForm=single&page=470



Link #5: Design-A-Column End Blocks



http://www.outwatercatalogs.com/lg_display.cfm/catalog/Master_Catalog_Vol_42?useSearchForm=single&page=470



About Outwater [Outwater Plastics Industries, Inc. + Architectural Products by Outwater, LLC]: Outwater can be contacted Toll Free at 1-800-631-8375 (For sales and product information in the USA & Canada) / 1-201-498-8750 (For sales and product information outside of the USA & Canada) or viewed online at www.outwater.com



From the vendor of a single product in August 1972, Outwater, with sales and distribution facilities in New Jersey and Arizona, is recognized today as a well established international manufacturer and stocking distributor of more than 65,000 standard and innovative component products required by woodworkers, cabinet and furniture manufacturers, builders, remodelers, designers, architects, point-of-purchase and display fixturing manufacturers, OEM's, as well as a diversified range of other commercial and retail end users.



Major Product Categories include Plastic & Aluminum Extrusions; Lighting and Lighting Accessories; Furniture, Cabinet & Store Fixture Components; Knobs & Pulls; Casters; Fasteners; Laminates; The FOGA Exhibit & Display Fastening System; The Klem Connector; Literature Displays; Slatwall; Sign Holders; P.O.P Components; Display Motors & Turntables; Pedestals; Injection Molded Parts; Brass Tubing & Fittings; Surfacing Materials; Interior & Exterior Polymer & Wood Architectural Mouldings & Millwork; ORAC DECOR and DEM Architectural Mouldings & Millwork; Columns & Capitals; Balustrading; Wrought Iron Components; Decorative Stamped Steel & Polymer Ceiling Panels; Wainscoting; Wall Coverings; Fireplace Surrounds; Plastic "Glass" Block; Period & Contemporary Hardware; Kitchen & Bath Accessories; Kitchen & Bath Cabinetry and Vanities… and so much more!



Contact:

Joey Shimm, Director of Marketing

Outwater Plastics Industries, Inc. + Architectural Products by Outwater, LLC

(201) 498-8750

More from Architectural & Civil Engineering Products