Wondercap Launches Shower Drain System with Triple Seal Shower Pan Liner Connection to Prevent Leak Under Pressure
Press Release Summary: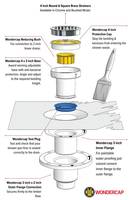 Prevents debris to fall inside during installation
Shower pan comes with a blue testing plug to thoroughly flood test leaks before they hand over
Shower drains are effective, efficient and fast to install
---
Original Press Release:
WONDERCAP Helps Contractors Keep Clients Happy with Cutting-Edge Shower Drainage Solution
Innovative product from Atlanta-based company addresses concerns of contractors tired of their work being labelled "ineffective" due to poorly-designed drainage setups.
ATLANTA, Feb. 19, 2019 /PRNewswire/ -- The brainchild of plumbing expert Les Howson, Shower Drains by WONDERCAP USA Inc. has been busy helping contractors keep clients happy with a more effective shower drainage solution that is easier to install and allows contractors to test their work before handover. Directly addressing concerns of work being labelled "ineffective" due to poorly-designed setups.
The WONDERCAP shower drain focuses on fixing traditional shower drain systems in the U.S. which are, according to WONDERCAP USA representatives, "flawed," and as such, difficult to install correctly, leaving contractors forced to fill them with silicone in the hope that it stops leaks. Contractors now have the advantage over current shower drain products to connect to the drainage system using a triple seal shower pan liner connection that won't leak under pressure in years to come.
An exciting new addition to the WONDERCAP shower drain system is the blue testing plug.
"The blue testing plug allows contractors to fill the shower pan with water and thoroughly flood test for leaks before they hand over. Giving themselves and builders peace of mind that the shower won't leak in 5 years" – which is normally the case.
"To contractors, we say – do it once, and do it right!" says Howson.
"Indeed, when contractors find a drain system stops working effectively, the task ahead is a long one; in fact, it is widely accepted that the shower will start leaking within five to six years and will need to be replaced. Then, there's the issue of blocked shower drains – which are unhygienic and exude a terrible odor – primarily caused by construction debris falling down the drain during installation."
"Having worked as a plumber and owning a successful plumbing company for many years, I noticed there was an opportunity to redesign the shower drain system so that no debris would fall inside during installation, the system can be tested for leaks prior to tiling, shower pan liner leaks can be prevented in the future and a more efficient overall installation method can be realized for contractors."
Howson adds that contractors and home owners have grown weary of dealing with old shower drains that are difficult and "fiddly" to install, and that do not function correctly after a period of time causing water stains on ceilings, rotting timber floors, mold and mildew around the base of the shower floors which all lead to expensive bathroom renovations.
Shower Drains by WONDERCAP, as an answer to this dilemma, offers a solution that is more effective, efficient, easier and faster to install and which keeps contractors' customers satisfied – thus positively reflecting on their business.
WONDERCAP is taking on an industry that, according to market insiders like Howson, has accepted inefficient materials and practices for too long.
Learn more at www.wondercap.com
Contact:
Les Howson 
844-966-3370
Source Wondercap USA, Inc.
More from Materials