WMA7RC Low Noise Amplifier features 1.0 Ohm input impedance.
Press Release Summary: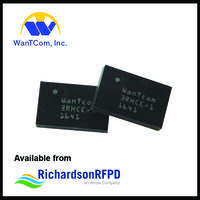 Available in 0.50 in. x 0.40 in. x 0.10 in. surface mount package, WMA7RC 7T Low Noise Amplifier delivers VSWR of 1.22:1. Offering 7T frequency of 298 MHz, noise figureof 0.40 dB and P1dB of +10.0 dBm, unit is operated by +10.0 V DC source. Product is suitable for nonmagnetic MRI, medical, RF measurement and current sensor applications.
---
Original Press Release:
Richardson RFPD Introduces New 7T LNA for Non-magnetic MRI Applications from WanTcom
Available in 0.5" x 0.4" x 0.1" surface mount package
Richardson RFPD, Inc. announced today the availability and full design support capabilities for a new low noise amplifier from WanTcom.
The WMA7RC utilizes WanTcom's proprietary low noise amplifier technologies, high frequency microelectronics assembly techniques, and long-standing reputation for high-reliability. The new device offers optimum low noise figure and exceptional wideband performance. With single +10.0 V DC operation, the LNA has 1.0 Ohm input impedance and unconditional stability.
It is available in a 0.50" x 0.40" x 0.10" surface mount package and is well suited for non-magnetic MRI applications, as well as other medical, RF measurement and current sensor applications.
Additional key features of the WMA7RC include:
7T frequency: 298 MHz
Noise figure: 0.40 dB
Max PIN: +30.0 dBm
Output IP3: +18.0 dBm
Gain: 28.0 dB
P1dB: +10.0 dBm
Output VSWR: 1.22:1
To find more information, or to purchase this product today online, please visit the WMA7RC webpage. The device is also available by calling 1-800-737-6937 (within North America); or please find a local sales engineer (worldwide) at Local Sales Support. To learn about additional products from WanTcom, please visit the WanTcom storefront webpage : http://www.richardsonrfpd.com/content/english/aboutus/Pages/Suppliers-Storefront.aspx?supplierId=509.
About Richardson RFPD
Richardson RFPD, an Arrow Electronics company, is a global leader in the RF and wireless communications, power conversion and renewable energy markets. It brings relationships with many of the industry's top radio frequency and power component suppliers. Whether it's designing components or engineering complete solutions, Richardson RFPD's worldwide design centers and technical sales team provide comprehensive support for customers' go-to-market strategy, from prototype to production. More information is available online at www.richardsonrfpd.com.
Contact:
Elizabeth Whelan
Marketing Specialist
Email: ewhelan@richardsonrfpd.com
Phone: 630.262.6867
Dave Silvius
Director, Strategic Marketing
Email: dsilvius@richardsonrfpd.com
Phone: 630 262 6800
Richardson RFPD
1950 S. Batavia Ave Suite 100
Geneva, IL 60134
M 630.488.6184
Related