Wisconsin Oven Ships Pre-heating Batch Oven to Automotive Industry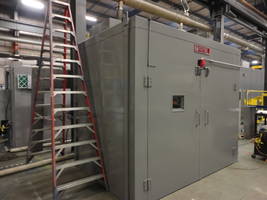 Wisconsin Oven Corporation announced the shipment of one (1) Electrically Heated Enhanced Duty Walk-In Series Oven to a manufacturer in the automotive industry. The batch oven will be used for pre-heating racks of plastic parts prior to painting.
The pre-heating oven has a maximum oven operating temperature of 300°F and work chamber dimensions of 9'0" wide x 7'0" long x 7'0" high. Guaranteed temperature uniformity of ±3.45°F at 257°F was documented with a nine (9) point temperature uniformity survey in an empty oven chamber under static operating conditions.
This walk-in batch oven has sufficient capacity to heat 125 pounds of aluminum shelf carts and 75 pounds of plastic parts from 70° to 257°F within 60 minutes when loaded into an ambient oven. To maximize heating rates and temperature uniformity of the product, horizontal and vertical upward airflow were featured in this oven.
 "This batch oven came with a complete turn-key installation package, which includes unloading the equipment, reassembly and rewiring any components removed for shipping, connecting of utilities, debugging and equipment start-up, and the training of three personnel on the operation and maintenance of the equipment." – Nick Toci, Sales Engineer
Unique features of this enhanced duty walk-in oven include:
Temperature uniformity of ±3.45°F at 257°F
One 6,000 CFM @ 7 ½ HP direct-driven blower
48 kW heat input with SSR power control
400 CFM @ ½ HP exhaust blower
Bi-parting, side-hinged, horizontal swing doors
Digital Eurotherm 3204 temperature controller
Tongue & groove panel assemblies
Chamber dimensions of 9'0" wide x 7'0" long x 7'0" high
Complete turn-key installation
More from Software